In a tweet during 2019 Court Reporting & Captioning Week, attorney Joe Fulton, a partner with Martineau King, PLLC, in Charlotte, N.C., showed some appreciation for court reporters. JCR Weekly reached out to him for more details.
JCR | What prompted you to tweet during Court Reporting & Captioning Week?
JF | I was really glad to see that the NCRA had gotten folks rallied around the idea of bringing attention to the important work done by court reporters. It is not a career choice that many people think about, but they should. I am a civil litigator, and my wife is a prosecutor. In my wife's job, they have at times actually been unable to keep a sufficient number of courtrooms running for the simple fact that not enough court reporters were available. In my job, I've been very lucky to work with a lot of great court reporters who are always punctual and who I can rely on to get the job done. There are lots of things about my job that are complex, but reliable court reporters make one of the most important parts, preserving the record at something like a deposition, easy.
JCR | What has been your experience working with court reporters?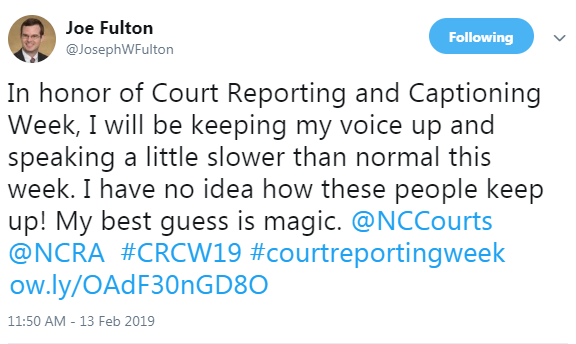 JF | I have worked with court reporters in depositions and court proceedings. One of the most enjoyable things about being an attorney is getting to work with a lot of different people. Whenever I show up to a deposition and see a court reporter that I know, I enjoy reminiscing about old cases we were both involved in and it always puts me at ease.
JCR | What do you think they add to the judicial process?
JF | Court reporters are an essential part of the American system of justice. Whether in a deposition or at a trial, the creating of a permanent and accurate record is essential to protecting the rights of all of the parties. There is no better way to do this than with an actual, live, in-person court reporter. If you have never had to rely on an audio recording to review a record, it might be difficult to believe that the record created by a court reporter would be much better. After all, the court reporter is "just writing down what people say." I have had personal experience in proceedings where only an audio recording was used. I can say without a doubt that a transcript created by a court reporter who was actually there is vastly superior to any audio recording.