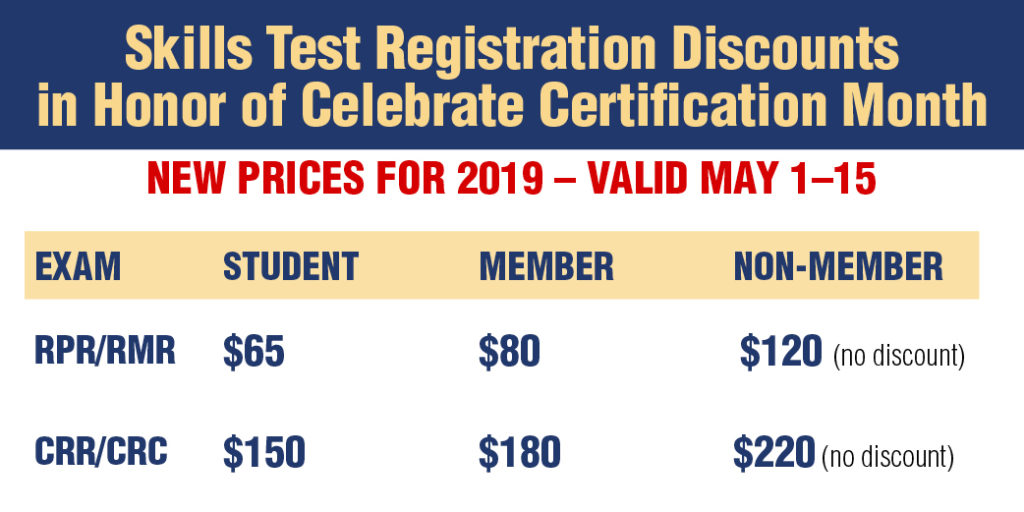 NCRA's second Celebrate Certification Month kicks off today, May 1. In addition to celebrating by sharing with customers, clients, and potential clients the importance of working with professionals who hold national certifications, NCRA members can also celebrate by taking advantage of special savings on test registrations and store purchases.
From May 1-15, NCRA members can save when they register for RPR, RMR, CRR, or CRC skills tests. There's no better time than certification month to earn a nationally recognized professional certification from NCRA to boost your skills and your career potential. During the special rates offering, students taking the RPR Skills Test will pay $65 for each leg, while members will pay $80 for each RPR or RMR Skills Test leg. In addition, members can take advantage of a discounted price of $180 for the CRR or CRC Skills Tests, while students will pay only $150 for a CRC Skills Test.
Remember, earning a professional certification is one of the greatest investments you can make in yourself to help ensure a successful career. So register now to take a skills test.
Throughout the entire month of May, members can also save an additional 10 percent on all purchases from the NCRA Store when they use the special savings code MAY10.
To help members celebrate throughout May, NCRA has made available a special resource page housing an array of downloadable materials. Resources include a press release template and instructions to distribute it, social media posts, email signatures, new CART and certification fliers, and brand-new certification business cards and career business cards.
For more information about the 2019 Celebrate Certification Month, contact pr@ncra.org. Share with NCRA how you celebrate the month by sending information to pr@ncra.org.