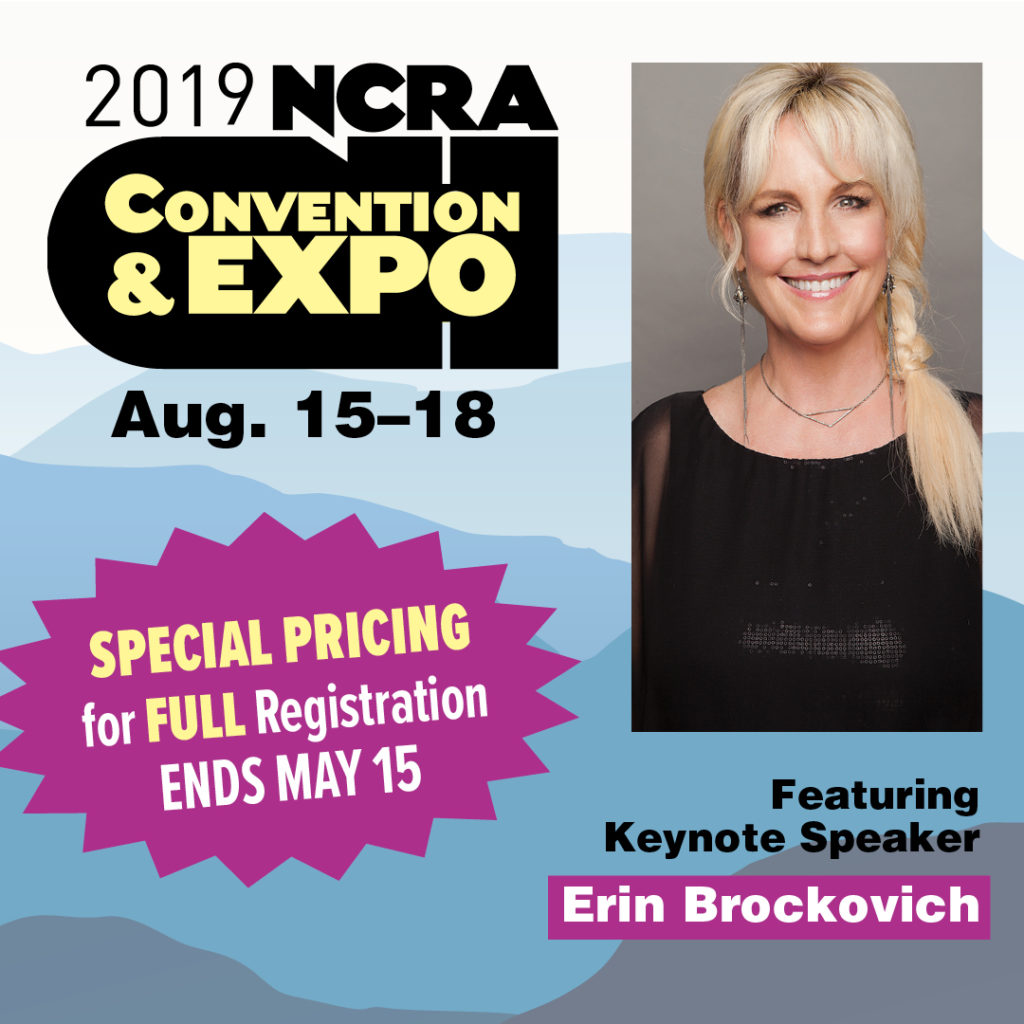 Don't miss out on the special savings on registration fees for the 2019 Convention & Expo happening Aug. 15-18 in Denver, Colo. Register by May 15 and take advantage of the special pricing of a $50 discount on the full registration.
Attendees are also encouraged to reserve hotel rooms for the Convention at the Hyatt Regency Denver at Colorado Convention Center. Staying at the host hotel not only gets great amenities for registered attendees (including continental breakfast on Friday and Saturday), but it also helps NCRA keep rates for events reasonable for everyone.
Taking center stage as keynote speaker at the Premier Session this year is the internationally recognized consumer advocate and environmental activist Erin Brockovich, who will share insights into how she used her persistence as a legal researcher to help secure the largest medical settlement lawsuit in history. Brockovich's story was made famous on the big screen when actress Julia Roberts portrayed her in the film Erin Brockovich. The Premier Session also serves as the venue for the installation of NCRA's 2019-2020 officers.
"NCRA is so honored to have Erin Brockovich join us as our keynote speaker at the 2019 Convention & Expo in Denver, Colo. Her story is one of true inspiration," said 2018-2019 NCRA President Sue A. Terry, FAPR, RPR, CRR, CRC, a freelance court reporter from Springfield, Ohio.
"Her ambition to overcome numerous challenges in her life, her impact in the legal arena, and her commitment to make the world a better and safer place for others is not just admirable, it is motivational," Terry said. "Her story is one that will without doubt resonate with our members."
This year's convention also features a range of exciting sessions for court reporters, captioners, legal videographers, and scopists, including the two-day CRC Workshop and CRC Exam, the ever-popular CRR Boot Camp, full-day vendor training workshops, and the Punctuation Workshop. Throughout the Convention attendees can earn up to 1.175 CEUs.
In addition to the learning sessions, NCRA's Convention & Expo is the place to be for the ultimate in networking opportunities. These ticket opportunities include the Opening Reception, the Awards Luncheon, and the Member Recognition Gala. The annual Realtime and Speed Contests are also expected to sell out quickly, so don't delay registering for these special events!
For more information about the 2019 NCRA Convention & Expo, or to register, visit NCRA.org/Convention. Don't let procrastination make you miss the special pricing in effect through May 15 that will get early registrants a $50 discount on the full registration.
For sponsorship information please contact Mary Petto, Senior Director of External Affairs, at mpetto@ncra.org.