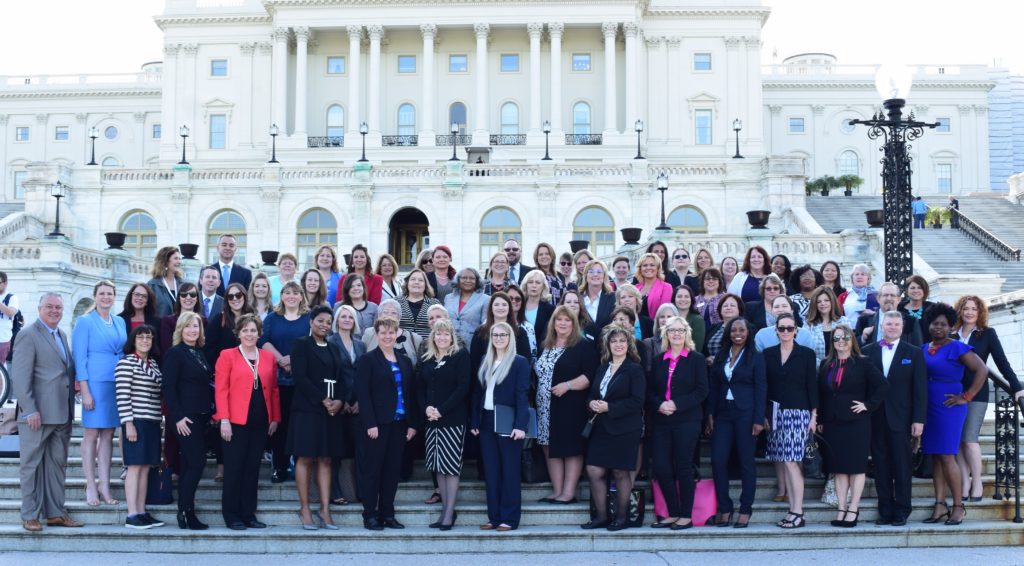 NCRA members hit Capitol Hill in full force on Tuesday, May 7, as part of the NCRA Leadership & Legislative Boot Camp. More than 80 attendees shared the importance of the court reporting and captioning professions with senators, representatives, and staff members.
Jocelynn Moore, NCRA Director of State Government Relations, called the day a big success.
"On Capitol Hill, it's common for constituents to meet with the elected member's staff for 15 minutes to a half hour," Moore said. "Our Boot Camp attendees from Montana and Oregon not only met with the staff of a senator for an hour-and-a-half but were also given a private tour of the House and Senate office buildings and were invited to attend a constituent coffee the following day where they discussed the Training for Realtime Writers grant program with both senators Tester and Daines, as well as Congressman Gianforte. After their meetings, Sen. Tester's staff even took them on another private tour to see the Capitol. As a former staffer on the Hill, I was absolutely amazed. That sort of facetime just doesn't happen."
The event started with two days of training with Dave Wenhold, CAE, PLC, NCRA Interim Executive Director, and Moore.
(Read Dineen Squillante's "My NCRA Boot Camp experience.")
"My experience at Boot Camp was simply amazing!" said Rebecca Brewer, RPR, CRR, of St. Louis, Mo. "I find it hard to explain to others, you simply just have to attend to understand the intensity of the training and the wealth of knowledge gained from attending. Dave Wenhold, with his vast knowledge and experience of the legislative process, was able to train the attendees in an easily understandable way, making the Boot Camp that much more enjoyable."
Wenhold outlined the goals of the event and discussed the nuts and bolts of association work. Wenhold and Moore then talked to attendees about politics on Capitol Hill and how to effectively advocate for ideas and legislation. Moore followed with a presentation about the state of court reporting and captioning throughout the country and how to effectively advocate before state legislatures. NCRA Board President Sue A. Terry, FAPR, RPR, CRR, CRC, Springfield, Ohio, and NCRA President-Elect Max Curry, RPR, CRI, Franklin, Tenn., ended the first day of Boot Camp with a discussion about the state of electronic and digital recording throughout the country.
During the second day of Boot Camp, Mike Goodman, with Cornerstone Government Affairs, Washington, D.C., began the day by talking to attendees about the dos and don'ts of lobbying members of congress. Then attendees broke out into a mock scenario session, in which they were trained to lobby before senators and representatives, and they had the opportunity to testify before a mock congressional committee. The day ended with Wenhold and Moore discussing the proper way to network and what they were to expect on Capitol Hill when lobbying for key legislation.
On Hill Day, NCRA members asked legislators and staff to make sure funds for captioning training are included the next time the Higher Education Act is reauthorized.
Margary Rogers, RPR, CRI, Washington, D.C., and Crystal Pilgrim, RPR, Silver Spring, Md., reported on a successful meeting with Sen. Chris Van Hollen, who represents Maryland, and his Legislative Director Sarah Shenning, who said they supported the reauthorization of the captioning grant money.
"We met Sen. Van Hollen because we arrived 15 minutes early and met him as he walked in for the day," Rogers said. "The senator asked us why we were there. We were prepared and answered questions with confidence. We told him about the HEA Act Bill 872, the reauthorization, FIPSE. We informed him that we represented NCRA and that we were court reporters here in Washington, D.C. He even did the court reporter finger motion and said how fascinating our jobs were."
First-time attendee Lori McCoin Jones, RPR, CCR, Midlothian, Va., met with staff members for Sen. Lindsey Graham, Sen. Mark Warner, Sen. Tim Kaine, Rep. Abigail Spanberger, and Rep. Elaine Luria.
"Boot Camp was a wonderful experience to bond with other reporters, gather information, and stretch and grow as reporters advocating for our profession," Jones said.
Miranda Seitz, Eau Claire, Wisc., also reported a great experience.
"I think as court reporters we feel that we should not interrupt unless we absolutely have to, and as women doubly so. The fact that NCRA has taken on the task of providing this kind of training and experience for their membership that goes so much against our professional instincts is quite the endeavor. The fact that they did it so effectively and at such a pivotal time for our profession … my gratitude cannot be overstated," she said. "Every single person that I met and networked with within Boot Camp was so genuine and engaging with me, and I did my best to do the same! I'm so glad I seized this opportunity to be able to (learn to) focus, strategize, and implement our collective goals alongside my multidimensional peers."