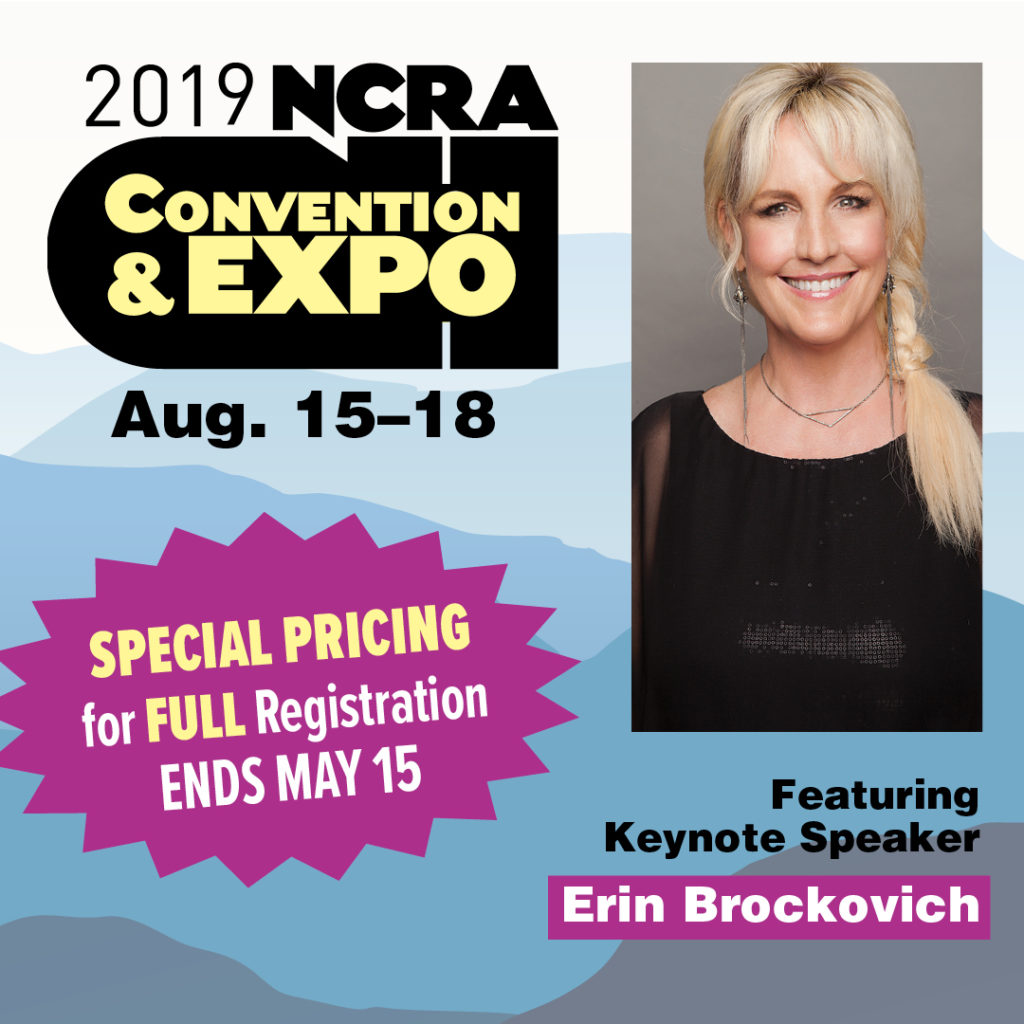 The special savings on registration fees for the 2019 Convention & Expo happening Aug. 15-18 in Denver, Colo., end today. Don't miss this opportunity to take advantage of the special pricing of a $50 discount on the full registration.
While taking advantage of this opportunity to save, be sure to reserve your hotel room for the Convention at the Hyatt Regency Denver at Colorado Convention Center. Support NCRA and help keep rates for member events low by staying at the host hotel. Not only do you enjoy special lodging pricing, but you'll also enjoy great amenities including continental breakfast on Friday and Saturday. Plus, staying at the host hotel puts you right at the site of all the exciting happenings including networking opportunities, educational sessions, the Expo floor, and this year's keynote speaker the well-known Erin Brockovich, consumer advocate and environmentalist who served as the inspiration for the movie that carries her name.
Don't miss your chance to save on registration fees, hotel rates, and be in the middle of the excitement planned for court reporters, captioners, legal videographers, and scopists, including the two-day CRC Workshop and CRC Exam, the ever-popular CRR Boot Camp, full-day vendor training workshops, and the Punctuation Workshop. And remember, throughout the Convention attendees can earn up to 1.175 CEUs.
Other highlights include such ticketed networking opportunities as the Opening Reception, the Awards Luncheon, and the Member Recognition Gala. The annual Realtime and Speed Contests are also expected to sell out quickly, so don't delay registering for these special events!
For more information about the 2019 NCRA Convention & Expo, or to register, visit NCRA.org/Convention. Don't let procrastination make you miss the special pricing in effect through May 15 that will get early registrants a $50 discount on the full registration.
For sponsorship information please contact Mary Petto, Senior Director of External Affairs, at mpetto@ncra.org.