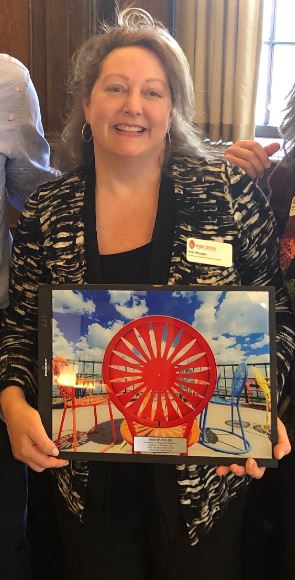 Recently the University of Wisconsin-Madison, Division of Student Life, honored NCRA member Kristen Wurgler, RPR, with the Wisconsin Idea award, recognizing her work and commitment at the institution for having a positive and significant impact on one or more communities beyond the borders of the campus.
Wurgler, a CART captioner from Cottage Grove, Wis., works at the university's McBurney Disability Resource Center alongside a team to provide remote services to deaf and hard-of-hearing (DHH) students as an option for their captioning accommodation.
"I was incredibly honored to just be nominated, let alone win," said Wurgler. "It means the world to me because it came from colleagues for whom I have the greatest respect. I feel blessed to be in the company of people who are deeply committed to being of service to others and believe that all people deserve equal treatment," she added.
In a speech delivered at the award ceremony, it was noted that Wurgler's work on campus, while often behind the scenes with little recognition, is integral to advancing access for students with disabilities.