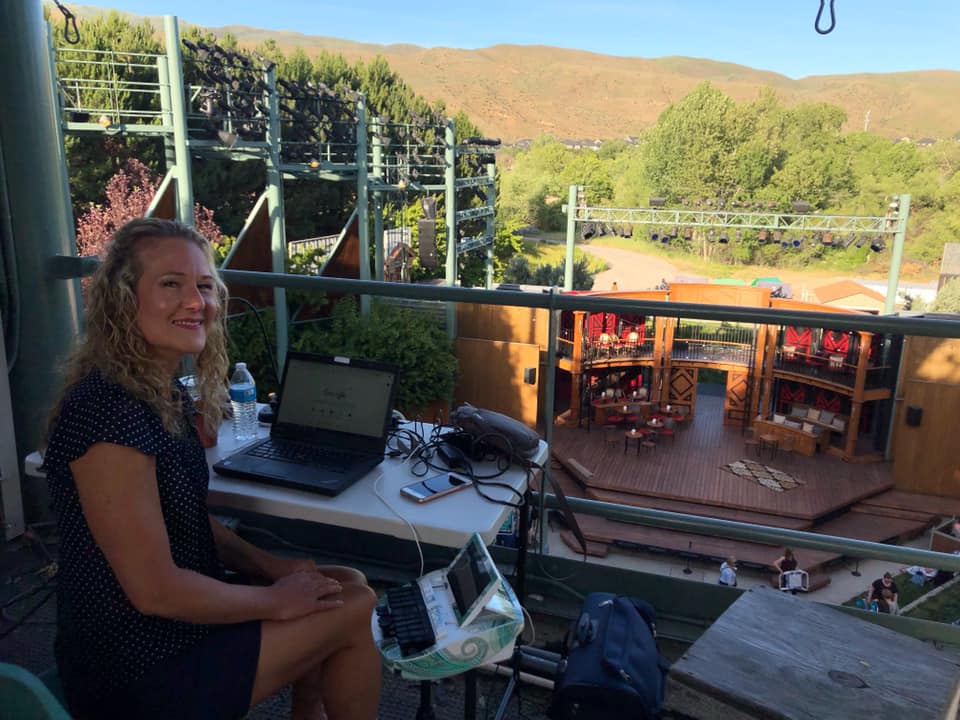 Katharine and Petruchio's story was available in a different way for the first time at the Idaho Shakespeare Festival recently. NCRA member Anissa Nierenberger, RPR, CRR, CRC, Boise, Idaho, provided captions for the first captioned performance in the history of the festival. The June 18 show was Taming of the Shrew. Nierenberger owns a captioning company in Boise called Captionique.  
The audience could access the captions on mobile devices through a captioning streaming program called 1CapApp.
We asked Nierenberger a few questions about the experience.
JCR | Where was the performance?
AN |The Idaho Shakespeare Festival takes place in Boise, Idaho, from Memorial Day weekend in May through the end of September and features five different plays. The festival takes place in a 770-seat, outdoor state-of-the-art facility. It operates under an agreement with the Idaho Foundation for Parks & Lands and the Idaho Department of Parks & Recreation. Boise has more than 100 parks.
JCR | How did you get the job?
AN | Idaho is gradually implementing captioning in venues where it's been commonplace for many years in other parts of the country. I'm happy that I moved here from Michigan two years ago and have been able to introduce captioning to deaf and hard-of-hearing Idahoans who need services.
JCR | What are the challenges in captioning Shakespeare?
AN |There's no inside space for me to set up to caption so my captioning nest was outside in the tower on the third floor. It's an interesting journey up very narrow stairways and a top-opening door.
JCR |Would you like to do it again?
AN |Yes, I would caption at ISF again and will! Their patrons loved the first night of captioning. And the view of the foothills is breathtaking.
JCR | Do you have any advice for other captioners?
AN | Reporters and captioners, the world is your oyster. If you dedicate time to your realtime skills, dictionary building, and passing certification tests, opportunities will present themselves. If you build it, it will come. This year marks my 27th year as a captioner. I'm thankful for this amazing job that has brought opportunities I couldn't have dreamed up.