Across the country the love for steno is being spread by NCRA state affiliates to help celebrate 2022 Court Reporting & Captioning Week with this year's theme of "Spread love and steno everywhere you go!" Take a look at some of the fun going on.
The Florida Court Reporters Association (FCRA) is celebrating by hosting a series of fun-filled virtual meet-ups via Zoom throughout the week and has invited anyone who is interested in a court reporting or captioning career or anyone who is a current court reporting student, a new professional, or a veteran reporter or captioner to join. No registration is needed. For more information contact admin@fcraonline.org.
In Texas the Bexar County Court Reporters Association (BCCRA) kicked off the week on Feb. 5 asking members to share on social media how they heard about court reporting as a profession, followed by the request to share a funny meme about capturing the spoken word on Feb. 6. On Feb. 7, BCCRA encouraged members to share on social media what a day in the life of a court reporter looks like. The association also shared on social media that San Antonio Mayor Ron Nierenberg recognized the week in an official proclamation via a Zoom event.
Activities for the remainder of the week included posting the poem "Guardians of the Record" on Feb. 8, encouraging members to share a photo of their steno machine with an explanation of how it works on Feb. 9, and posting a throwback picture of themselves reporting or from court reporting school on Feb. 10. BCCRA members will also hold their monthly meeting during the week, and the meeting will feature a game of Bingo. Several members of the association will also be on hand at the opening evening of the San Antonio Rodeo and plan to encourage other court reporters to join them for a social evening. Finally, BCCRA members are being encouraged to post on Feb. 11 the most outrageous thing that has happened to them while on the job or in school and wrap up the week on Feb. 12 with a post about what they love about court reporting.
Members of the Virginia Court Reporting Association (VCRA) have created a background for members to use for their Zoom depositions and hearings. The association has also created a scan code that directs viewers to a short video about what court reporting is. The code is being published with an advertisement for Court Reporting & Captioning week in the Virginia Lawyers Weekly. VCRA also plans to email the code to state bar and paralegal associations.
VCRA also kicked off the week with a virtual members-only Bingo social hour that included prizes and drawings every 15 minutes for Amazon gift cards.
Members of the Wisconsin Court Reporters Association (WCRA) are being encouraged to promote the week with a number of activities as well. Some of those include:
-Post with pride their own Proclamation of Wisconsin's Court Reporting and Captioning Week 2022.
-Contacting local radio and television stations and newspapers to offer an interview.
-Plan an office breakfast, lunch, or treats.
-Arrange a visit to your local high school/middle school for a presentation on the interesting and rewarding career you have.
-Set up a display in the lobby of your courthouse/freelance office with hand-outs available.
-Develop some trivia for your office/courthouse personnel – include historically significant reporting events or simply some steno to decipher!
-Refer people interested in court reporting or captioning to NCRA's DiscoverSteno site.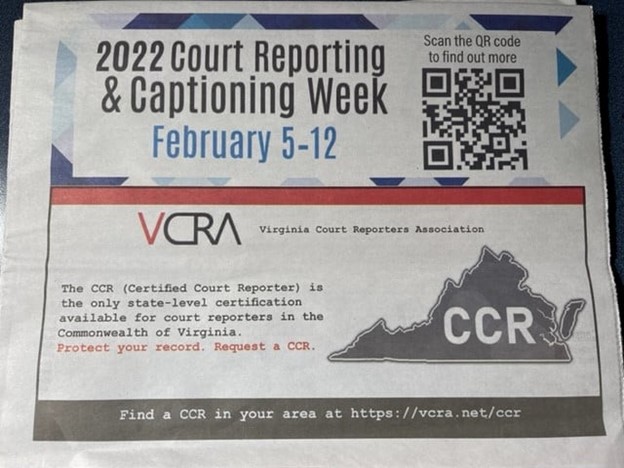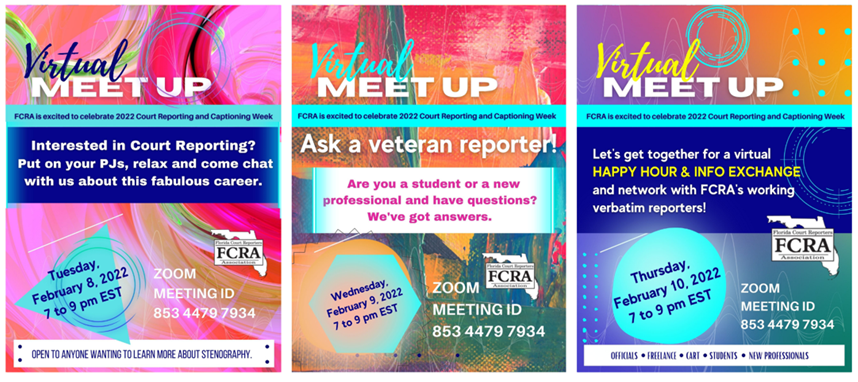 Remember there are resources
Don't forget to check in throughout the week on NCRA's Facebook page for daily postings about how you can join in the celebration of the court reporting and captioning professions. And as a reminder, there will be a second JCR Weekly issue on Feb. 11 dedicated to 2022 Court Reporting & Captioning Week that will highlight other activities and celebrations happening around the country.
Finally, be sure to visit NCRA's 2022 Court Reporting & Captioning Week resource page to learn more about how you can participate in this special week. NCRA has made available an array of resources from press release templates to flyers to posters and more designed to help you celebrate. Please share with us how you celebrate. Send photos and other info to pr@ncra.org.