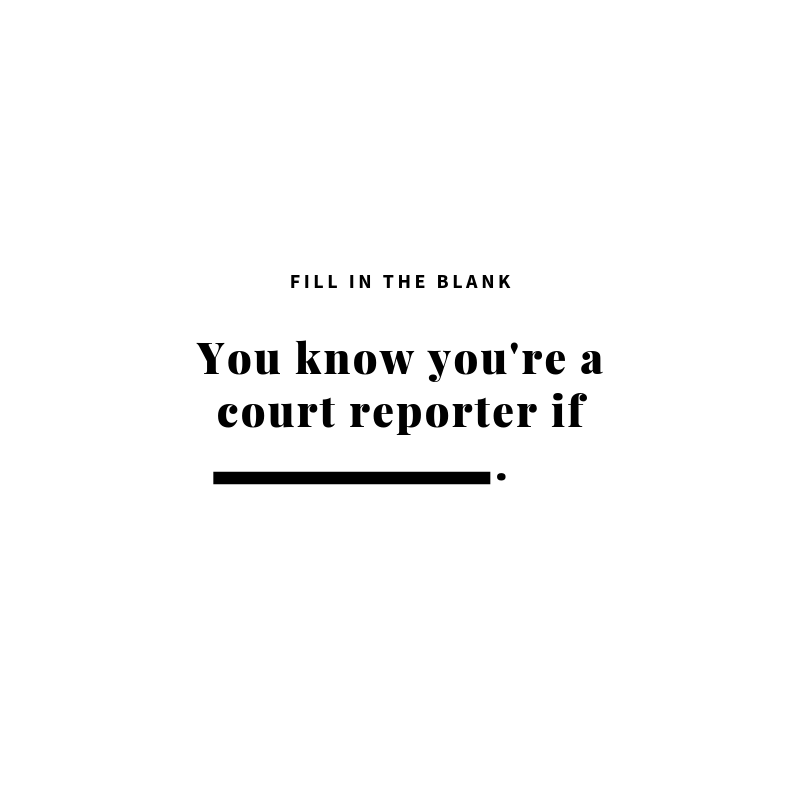 We recently asked this fill-in-the-blank question on the NCRA Facebook page.
Here are some of the great answers:
You know you're a court reporter if …
"When you edit and punctuate restaurant menus, church bulletins, billboards (while driving), your text messages to other court reporters, hate the AI functions on your text messaging when they get it wrong, try to publicly correct someone when they say 'conversate,' or 'pacific' for 'specific.' And when you walk away from a group conversation (not work related) when one person talks over another."
Margary Rogers, RPR, CRI
---
"You judge people based on how fast/slow they talk.
Me: I love Ms. Jones.
The bailiff: Why? She's a horrible attorney.
Me: That's not the point. She doesn't speak fast and she enunciates."
Athena Rose
---
"You chime in to your kids' conversation from another room and their friend asks, 'How did she hear that,' and they reply, 'She's a court reporter, she hears everything.'"
Heidi Baptista Benavides
---
"You're talking to your husband and he nods in response to a question and you say 'I'm sorry, is that a yes?'"
Judy Harrell Wallenfelt
---
"You're the only one who understood the muffled PA announcement at the airport."
Michael Bouley, RDR
---
"Your husband thinks you don't hear his conversation on the phone in the other room because you're talking to someone else … but you hear everything."
Michelle Yaklovich
---
"Your Google feed would raise questions if anyone searched the history."
Robin L. Coleman
---
"You renew your NCRA membership every single year because you know they have the best interest of your profession at heart!"
Eve Rogers Key, RPR
---
"Your kids correct their teachers' work."
Crystal Ballast, RPR
---
"You know you're a court reporter if you want to debate the phlebotomist at your doctor's office about her sanitizing/swabbing technique before the venipuncture."
Diana Miller Bengs, RPR
---
"When you are in the hospital for a procedure and you grill the anesthesiologist with questions until he asks if you're a lawyer."
Kathleen Vaglica, RMR
---
"If you red ink your wife's love letters … not a good idea."
Jim Korwan
---
"You're all caught up on pages and don't know what to do with your free time."
Ksenija Zeltkalns, RPR
---
"You can't listen to anything where people are talking over each other. Talk radio is sooo annoying."
Dani Murray, RMR, CRR
---
"Spelling sound effects doesn't scare you."
Michael Bouley, RDR