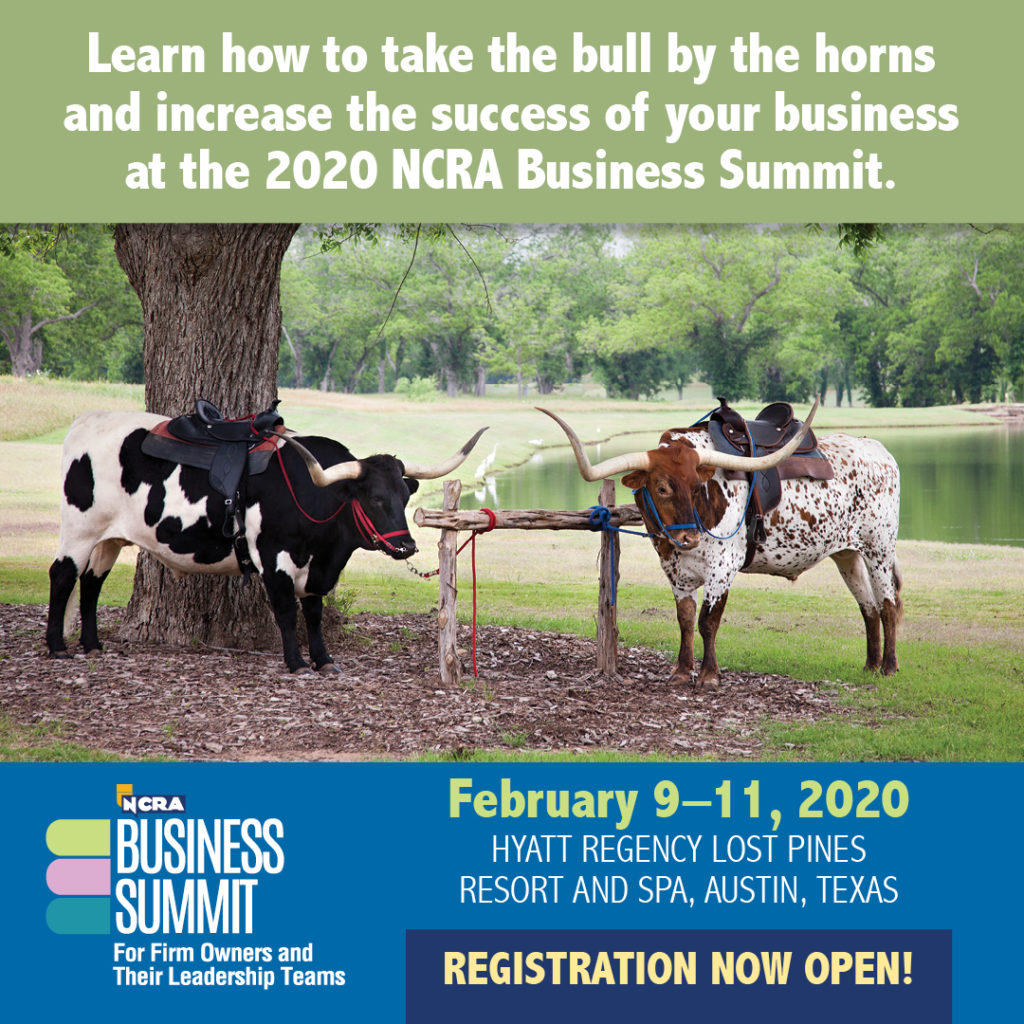 The 2020 NCRA Business Summit offers the perfect opportunity to help you grow your business, and early access pricing offers you the perfect opportunity to save money. Register now through Nov. 30, and save $100 for members, nonmembers, and additional firm employees, and save $50 on spouse registration. The event is Feb. 9-11, 2020, at the beautiful Hyatt Regency Lost Pines Resort & Spa in Austin, Texas
Compare registration rates and book your spot now!
Early Access Registration: Oct. 15 – Nov. 30, 2019
Member: $975; Nonmember: $1,150; Additional Firm Employee: $850; Spouse/Guest: $200
Regular Registration: Dec. 1, 2019 – Jan. 31, 2020
Member: $1,075; Nonmember: $1,250; Additional Firm Employee: $950; Spouse/Guest: $250
Last Minute Registration: Feb. 1 – 9, 2020
Member: $1,125; Nonmember: $1,300; Additional Firm Employee: $1,000; Spouse/Guest: $300
Owners and leaders of firms of all sizes are sure to enjoy the lineup of speakers and experts on the 2020 program, including the latest addition, Cathy O'Neal, communications director for Levitt Pavilion Arlington, an outdoor concert venue in Arlington, Texas, that presents more than 50 free concerts a year.
O'Neal holds a journalism degree from the University of Texas at Arlington, where she also serves as an adjunct professor in the Communications Department teaching media writing, public relations management, and public relations case studies. She will lead a session about successful social media strategies to help build business.
According to O'Neal, social media can be just one more chore, or it can help you gain visibility, reputation, and clients. She will cover the who, what, when, where, and why of social media from the vantage point of a seasoned communications pro who just finished her year with a 3.2 million Facebook reach! O'Neal will help attendees learn how to weed out the stuff they don't need, focus on the stuff they do need, analyze real-world examples, and help them walk away from the session with action items they can put in practice immediately to start building the social media presence they want.
Other highlights include keynote speaker Karim R. Ellis, founder of Empowered Education, a company devoted to developing both organizations and individuals. Ellis is a dynamic motivational speaker with 10 years of experience in the arena of speaking, training, and coaching. He will share with attendees his insights into successful leadership creation and development.
Also on the program is Chris Williams, co-founder of Wide Awake Business, established in 2004 to help companies grow. She is also the co-author, along with co-founder of Wide Awake Business, Martha Hanlon, of Customers Are the Answer to Everything and most recently of Customertopia. Williams and Hanlon have been called one of the foremost authorities on in how to get and keep customers. Williams will provide a two-part presentation, which will focus on how to create an easier, simpler, more profitable business.
Other sessions include "Protecting Your Firm from Scams & Data Breaches," which will be led by former FBI agent Ron Comers, a financial planning session led by financial advisor Chris Moyseos, and the presentation of the findings of NCRA's 2020 Firm Owners Economic Outlook survey led by NCRA Interim Executive Director Dave Wenhold, CPE.
The 2020 NCRA Business Summit program also offers a number of networking opportunities throughout the three-day event to provide attendees with the chance to expand their networks, engage with old friends, and build relationships with new ones. And attendees are encouraged to check out all of the activities the venue offers to take advantage of the waived resort fee. The event kicks off with a fun and exciting team-building activity followed by an opening reception and dinner.
Save even more money and support NCRA's efforts to keep event costs down for attendees by taking advantage of the special hotel room rate for single/double occupancy for attendees of $209 per night plus tax ($237.73), that also includes the $35 resort fee waived. Hurry, these special hotel rates end on Jan. 8, 2020. Deadline to register to attend is Jan. 31, 2020.
For more information and to register for the 2020 NCRA Business Summit, visit NCRA.org/BusinessSummit.