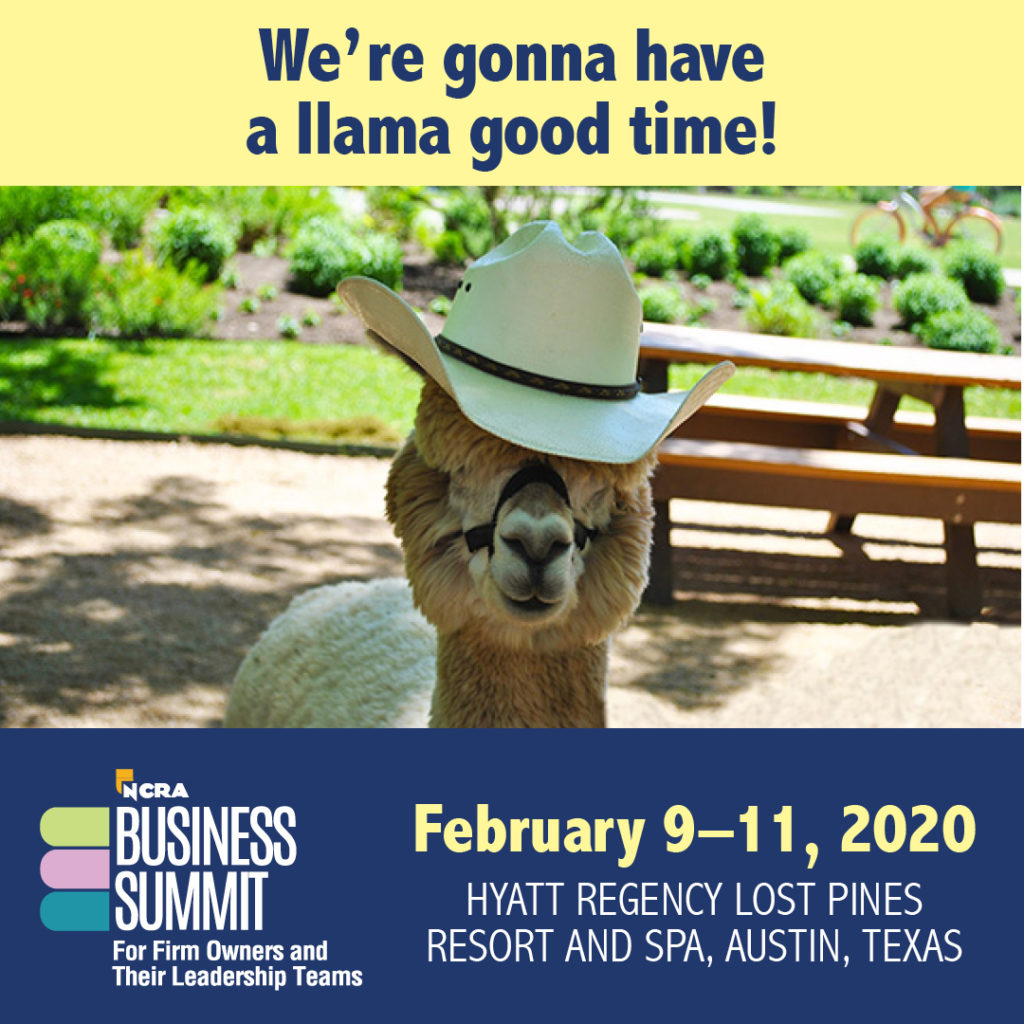 The special hotel room rate for NCRA's 2020 Business Summit has been extended until Jan. 17. The single/double occupancy rate is $209 per night for attendees plus tax ($237.73).  There is no better rate for a stay at the beautiful Hyatt Regency Lost Pines Resort & Spa in Austin, Texas, host site of the 2020 Business Summit, Feb. 9-11. Plus, attendees who book now will also enjoy additional savings when the resort fee of $35 is reimbursed by the hotel upon check-in. This special room rate will not be extended again, so if you haven't booked your stay yet, do it now.
Located on more than 400 acres along the banks of the Colorado River, the Hyatt Regency Lost Pines Resort & Spa in Austin, Texas, offers a variety of amenities and activities for attendees and their guests to enjoy during their stay. The recreational amenities attendees can enjoy include: A full-service spa, salon, and fitness center; two tennis courts; an 18-hole golf course; hiking, biking and jogging paths; horseback riding; a video arcade; a water park; a meet-and-greet with the facility's mascots; and more.
This year's Business Summit lineup of exciting and informative presenters will send attendees home armed with the latest and most innovative strategies for business success in 2020 and beyond, while networking opportunities will help firm owners expand their professional spheres of influence. Highlights include:
A two-part session that will be presented by Chris Williams, co-founder of Wide Awake Business. Since 2008, nearly 5,000 business owners have relied on her sales and marketing expertise to boost their sales by more than $538 million. Below is a description of what her presentations will cover.
Five steps to an easier, simpler, more profitable business – Part 1
Imagine this. Your business bursts with all the customers you want. They come more easily than in the past. You love working with them, and they love working with you. They pay … and on time! Your business isn't overwhelming you or stressing you out. At least not most of the time. If this sounds too good to be true –it isn't. In this workshop, Chris Williams will share the specific steps that have led more than 5,000 of her clients to generate more than $628 million in new revenue. Your business can be easier, simpler, and more profitable with the strategies you can start implementing before you leave the Business Summit.
Five steps to an easier, simpler, more profitable business – Part 2
In this session, Williams will provide templates and tools that you can use to set yourself apart from the competition so that you're the first call people make when they're looking for reporting services. You'll also walk away with a simple, low-cost system for generating a steady stream of referrals for your business, so the pipeline is never empty. Learn five ways to "overcome the overwhelm" and make your business easier, simpler, and more profitable. Williams will provide the roadmap to make sure that 2020 is your most successful year ever.
Click here to hear from Williams herself about what she has to share.
Other speakers include:
Keynote speaker, the energetic Karim R. Ellis, founder of Empowered Education, a company devoted to developing both organizations and individuals. Ellis is a dynamic motivational speaker with 10 years of experience in the arena of speaking, training, and coaching, He takes great pride in cultivating leaders and champions, and his sole desire is to unlock an atmosphere of greatness in the lives of the people he connects with on a daily basis. Ellis will share with attendees his insights into successful leadership creation and development.
Cathy O'Neal, communications director for Levitt Pavilion Arlington, an outdoor concert venue that presents more than 50 free concerts a year, has planned a fun and enlightening look at how social media can be changed from chore to tool in a firm's business plan for success. O'Neal holds a journalism degree from the University of Texas at Arlington, where she also serves as an adjunct professor in the Communications Department teaching media writing, public relations management, and public relations case studies. She will share with attendees successful social media strategies to help build business.
According to O'Neal, social media can help you gain visibility, reputation, and clients. She will cover the who, what, when, where, and why of social media from the vantage point of a seasoned communications pro who just finished her year with a 3.2 million Facebook reach! O'Neal will help attendees learn how to weed out the stuff they don't need, focus on the stuff they do need, analyze real-world examples, and help them walk away from the session with action items they can put in practice immediately to start building the social media presence they want. To learn more about what O'Neal has to share, watch her video here.
Ron Comers, a former FBI agent and current advisor on corporate security risks through Charted Risk, LLC, will present "Protecting Your Firm from Scams & Data Breaches," and offer tips on how firms can keep their files and other information safe in today's cyber-savvy world;
Chris Moyseos, a financial advisor and financial planning specialist with Morgan Stanley Wealth Management, will lead a session on financial planning and managing personal wealth.
Attendees of the 2020 NCRA Business Summit will also receive a copy of the 2019 Firm Owners Survey Report. More than 200 firm owners responded to this survey, sharing insights about their firms, including how the latest trends are impacting court reporting, captioning, and legal videography firms, and what the outlook for the future holds. NCRA Executive Director Dave Wenhold, CAE, will present the findings.
Be a part of the NCRA 2020 Business Summit when it kicks off with a fun and exciting team-building activity followed by an opening reception.
Regular Registration ends Jan. 31, 2020
Member: $1,075; Nonmember: $1,250; Additional Firm Employee: $950; Spouse/Guest: $250
Last-Minute Registration: Feb. 1–9, 2020
Member: $1,125; Nonmember: $1,300; Additional Firm Employee: $1,000; Spouse/Guest: $300
For more information and to register for the 2020 NCRA Business Summit, visit NCRA.org/BusinessSummit.