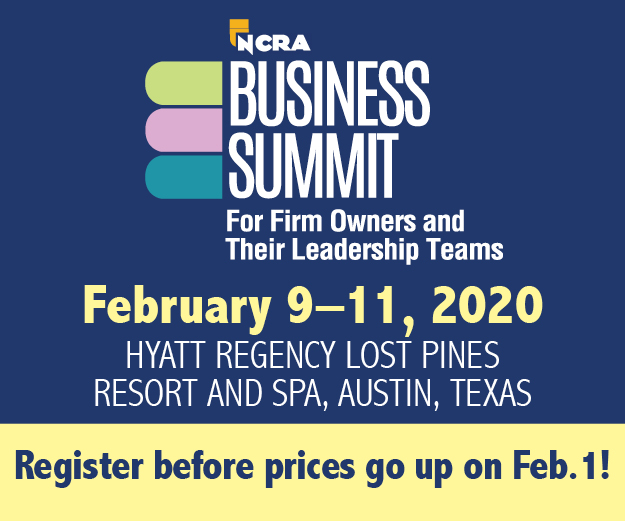 If you haven't registered yet, hurry and do it now! Don't miss the chance to join other attendees at the NCRA 2020 Business Summit when they kick off the event with a friendly round of Lost Pines Olympics. The 2020 event is taking place Feb. 9-11 at the beautiful Hyatt Regency Lost Pines Resort & Spa in Austin, Texas. Regular registration rates end Jan. 31.
The Lost Pines Olympics is a team-building challenge that pits two teams against one another in a friendly go at a relay-type race that features seven stations with various tasks. Stations include:
Dizzy bat
Soccer dribble
Corn hole toss
Archery target
Giant cup stacking
Inflatable horse relay
Teambuilding skits
Be a part of the fun and camaraderie this activity will generate and take advantage of the numerous networking opportunities that the Business Summit will offer. And don't forget the amazing speakers scheduled this year who will share insights about the latest in using social media to build your business, the best financial planning tips, a firsthand look at the NCRA 2019 Firm Owners Benchmark Survey, and more.
This year's Business Summit line-up of exciting and informative presenters will send attendees home armed with the latest and most innovative strategies for business success in 2020 and beyond, while networking opportunities will help firm owners expand their professional spheres of influence. Highlights include:
A two-part session that will be presented by Chris Williams, co-founder of Wide Awake Business. Since 2008, nearly 5,000 business owners have relied on her sales and marketing expertise to boost their sales by more than $538 million. Click here to hear from Williams herself about what she has to share.
Keynote speaker is the energetic Karim R. Ellis, founder of Empowered Education, a company devoted to developing both organizations and individuals. Ellis is a dynamic motivational speaker with 10 years of experience in the arena of speaking, training, and coaching, He takes great pride in cultivating leaders and champions, and his sole desire is to unlock an atmosphere of greatness in the lives of the people he connects with on a daily basis. Ellis will share with attendees his insights into successful leadership creation and development.
Cathy O'Neal, communications director for Levitt Pavilion Arlington, an outdoor concert venue that presents more than 50 free concerts a year, has planned a fun and enlightening look at how social media can be changed from chore to tool in a firm's business plan for success.
Ron Comers, a former FBI agent and current advisor on corporate security risks through Charted Risk, LLC, who will present "Protecting Your Firm from Scams & Data Breaches," and offer tips on how firms can keep their files and other information safe in today's cyber-savvy world.
Chris Moyseos, a financial advisor and financial planning specialist with Morgan Stanley Wealth Management, who will lead a session on financial planning and managing personal wealth.
In addition, attendees will enjoy many opportunities throughout the three-day event to expand their networks, engage with old friends, and build relationships with new ones.
Located on more than 400 acres along the banks of the Colorado River, the Hyatt Regency Lost Pines Resort & Spa offers a variety of amenities and activities for attendees and their guests to enjoy during their stay. The recreational amenities attendees can enjoy include: A full-service spa, salon, and fitness center; two tennis courts; an 18-hole golf course; hiking, biking, and jogging paths; horseback riding; a video arcade; a water park; a meet-and-greet with the facility's mascots; and more.
Be a part of the NCRA 2020 Business Summit.
Regular Registration ends Jan. 31, 2020
Member: $1,075; Nonmember: $1,250; Additional Firm Employee: $950; Spouse/Guest: $250
Last-Minute Registration: Feb. 1–9, 2020
Member: $1,125; Nonmember: $1,300; Additional Firm Employee: $1,000; Spouse/Guest: $300
For more information and to register for the 2020 NCRA Business Summit, visit NCRA.org/BusinessSummit.