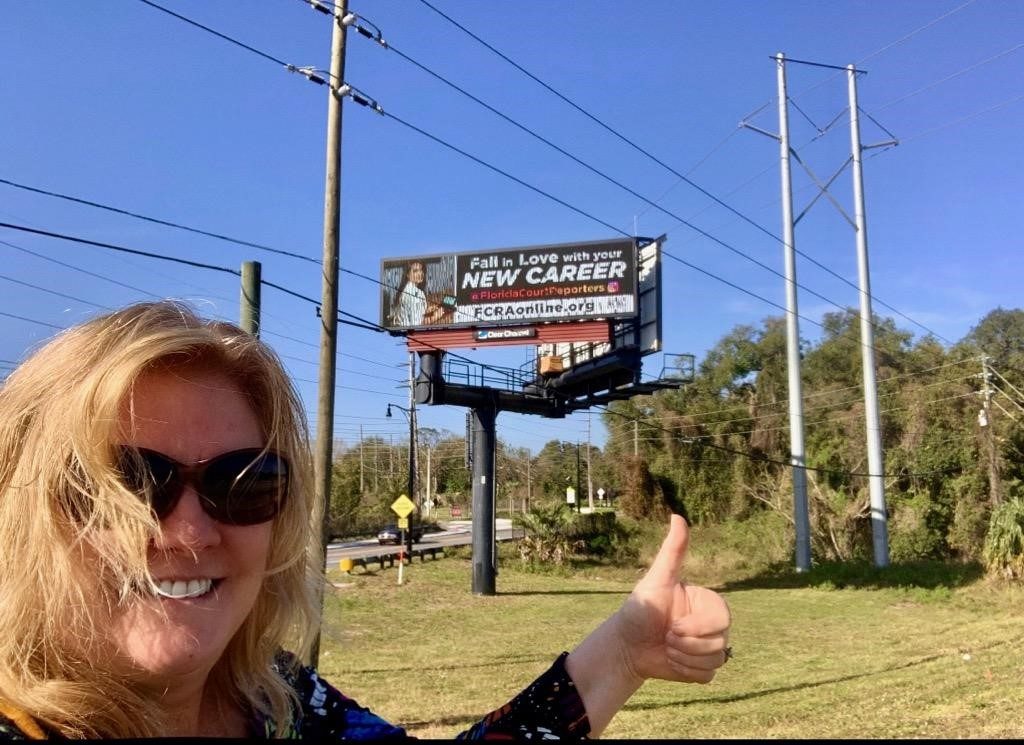 NCRA's 2020 Court Reporting & Captioning Week kicked off on Feb. 8, and members, state associations, and schools report that participation is in full swing. With this year's theme, For the Love of Steno, activities being shared range from securing official proclamations recognizing the week to news articles in the media, from billboards and advertisements to contests, presentations, and more. Below is a glimpse of some of what's happening across the country.
An official national proclamation has been secured by U.S. Rep. Ron Kind of Wisconsin. Kind is a co-sponsor of bi-partisan legislation introduced in December 2019 that will reauthorize a grant program to encourage careers in realtime writing and court reporting.
At the state and local levels, official proclamations have been secured by the following:
Michigan Court Reporters Association
Nevada Court Reporters Association
Ohio Court Reporters Association
Texas Court Reporters Association
Bexar County (Texas) Court Reporters Association
Wisconsin Court Reporters Association
For the second consecutive year, NCRA has issued its own challenge that calls on all state affiliates to help celebrate 2020 Court Reporting & Captioning Week by securing an official proclamation recognizing the week by their state governor or a state lawmaker. States that submit a copy of their official state proclamation recognizing the week to pr@ncra.org will be entered into a drawing to win one free 2020 Convention & Expo registration. A downloadable sample proclamation is available on NCRA's Court Reporting & Captioning resource page.
Fun times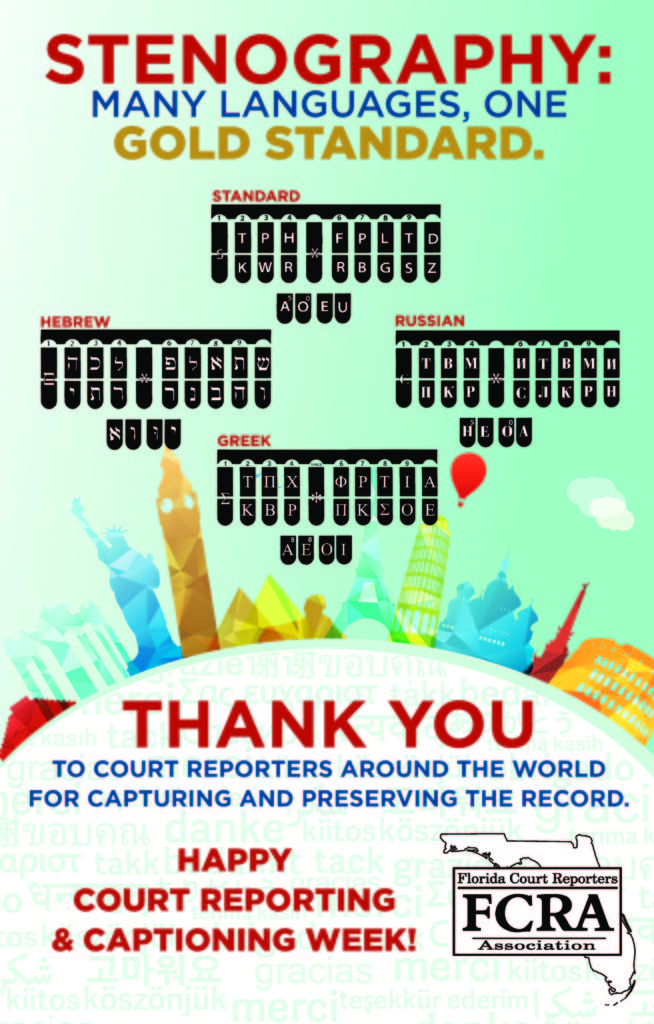 Plenty of fun activities have also been planned to celebrate the week. For example, members of the Florida Court Reporters Association (FCRA) are encouraged to mark the week by making a donation to the state association and be entered into a drawing being held at the end of the week for a chance to win a free registration to the state association's annual convention being held in Key Largo, July 17-19.
Members of the New York State Court Reporters Association in the Buffalo area will celebrate during a happy hour on Feb. 13, which will bring together officials, freelancers, captioners, students, judges, lawyers, deputies, and others.
Members of the Texas Court Reporters Association (TCRA) have an entire week scheduled with events including the following daily social media campaigns:
Feb. 8 – Stylin' Saturday: Post a photo of themselves in a T-shirt or cap
Feb. 9 – Steno Sunday: Photo of your steno machine (Does yours have a name?)
Feb. 10 – Meme Monday: Share a court reporter-related meme
Feb. 11 – Testimony Tuesday: Share interesting/funny testimony you've reported
Feb 12 – Where are you Wednesday: Post a picture of your workplace
Feb. 13 – TCRA Thursday: Your favorite photo of a TCRA event
Feb. 14 – Finally, Friday: "It's the Weekend" picture
Feb. 15 – Spelling Saturday: Share your cringe-worthy photo of bad spelling or bad punctuation
TCRA members will also have the opportunity to visit with court reporting students at San Antonio College, while attending a happy hour and a special breakfast for steno reporters and captioners.
Wisconsin Court Reporters Association members are encouraged to print and display the governor's official proclamation recognizing the week, as well as share what they love about their jobs on social media, showcase what they do at a school demo or community event, reach out to media outlets, set up a display in the lobby of their courthouse or office, offer to give a jury or attorneys a realtime demonstration, and more.
Shout it out
Advertisements and billboards have also popped up this year in honor of the week. The FCRA sponsored two billboards promoting the profession. One billboard is in Orlando and the other is in Tampa.
To help spread the word, eCourt Reporters, based in Burlington, Wis., is running an advertisement on radio station WTMJ620 about the importance of using stenographic court reporters and captioners to ensure accuracy in the courtroom, the depo room, and in the captioning of live events. Representatives of the firm will also be promoting the court reporting profession, along with live stenographers, at the American Bar Association Tech Show in Chicago, Ill., and at industry events being held in Iowa and Wisconsin. The company also has a television appearance scheduled for March to promote the profession.
Additional activities
Members of the California Court Reporters Association produced a video to circulate during the week explaining how an official court reporter makes the official record and plans to share it on social media and with judges, attorneys, and other parties.
At Cuyahoga Community College, Cuyahoga, Ohio, where the court reporting program is experiencing a record enrollment this semester, students will hear a "surprise" speaker hosted via WEBEX so those locally and around the country can listen in. Students will also be taking shifts in the main galleria of the college to staff a prize wheel and steno machine station. Passersby who try out the steno machine then have the chance to spin the wheel for a prize.
Once again, the National Congress of State Associations (NCSA) is offering members the chance to win event registrations and more for promoting the court reporting and captioning professions beginning now and culminating at the end of the official week.
The NCSA State Challenge offers a friendly contest among state associations and individual NCRA members to spread the word about the benefits of choosing a career in court reporting or captioning. The 2020 NCSA State Challenge marks the sixth year the gauntlet has been thrown down. Winners will receive a variety of prizes ranging from complimentary NCRA event registrations to vouchers for continuing education.
Remember to share how you celebrate the week by sending information about and photos of your event to NCRA's Communications Team at pr@ncra.org. Everyone is also encouraged to share his or her activities on social media using the hashtags #CRCW20 and #DiscoverSteno.
And don't forget, be sure to check out NCRA's resources for 2020 Court Reporting & Captioning Week for the most up-to-date materials designed to help you celebrate the week and beyond.
Happy 2020 Court Reporting & Captioning Week! We look forward to sharing your stories.