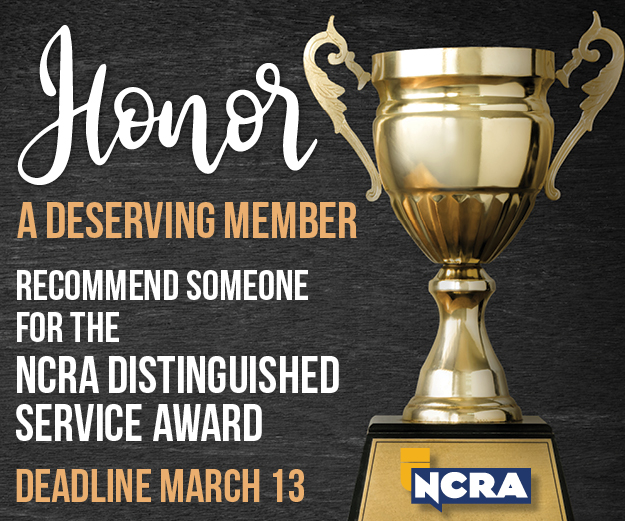 Nominations for the Distinguished Service Award, the highest honor NCRA can bestow on a member, are due March 13. It recognizes the distinguished work and service by an individual member for the benefit of the court reporting profession. Do you know someone who has been involved in NCRA affairs on an extensive level, along with service to state and other reporting associations? Has this person been involved in public affairs and public relations or writing for association publications? If so, take time to nominate that person for this year's DSA award. The recipient will be recognized at the NCRA Conference & Expo in Orlando in August.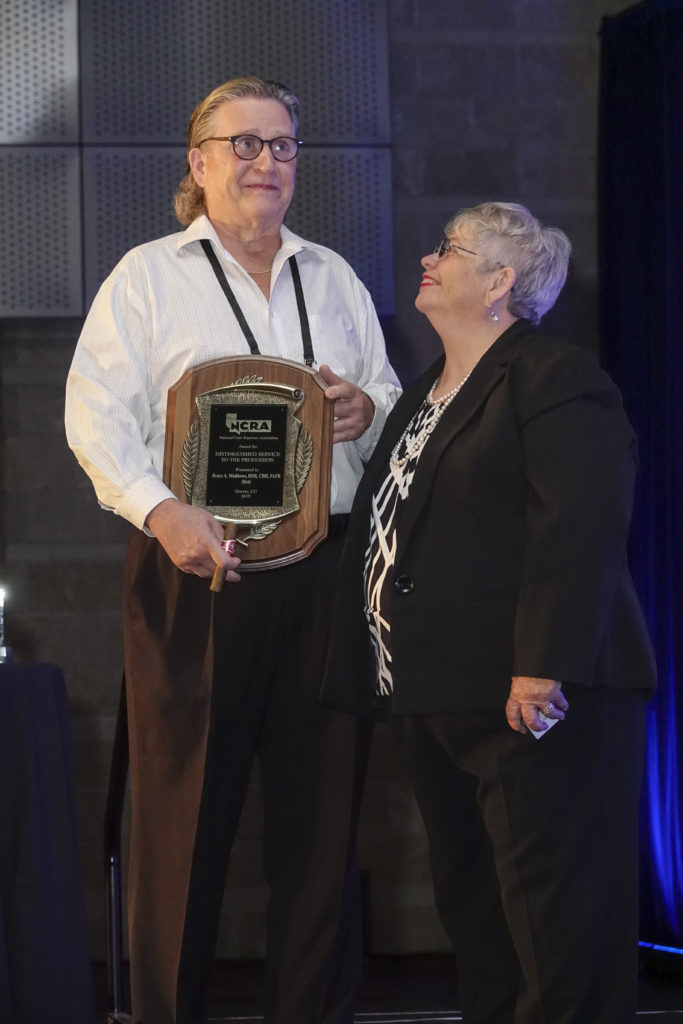 "Due to the fact I started my career 47 years ago with the late, great Marty Fincun in Cleveland, I became immediately involved with the Ohio Shorthand Reporters Association and soon thereafter with NCRA. You might say I caught the bug of doing association work on committees, task forces, and eventually working as a board member," said Bruce Matthews, FAPR, RDR, CRR, a retired court reporter from Lakewood, Ohio, who was honored with the award last year.
"When my name was called at last year's convention as the 2019 Distinguished Service Award recipient, I felt my career, not only as a reporter, but as a volunteer, had finally been completed. It was a very humbling experience and one I'll always remember. My award hangs in my living room with great pride. I see it every day," Matthews added.
Voting members of NCRA or recognized court reporting associations can submit nominations. Nominations must include information supporting why the nominee should be considered. Finally, DSA candidates cannot be an active member of the DSA Committee or the NCRA Board of Directors and must be a Registered Member of NCRA in good standing or a Registered Retired Member or Registered Retired Lifetime Member who was a member in good standing upon retirement.
Eligible members of NCRA may submit nominations online at: NCRA.org/awards/dsa or by email to dsa@ncra.org.
The deadline for nominations for NCRA's Distinguished Service Award is March 13. Don't wait; nominate someone today!