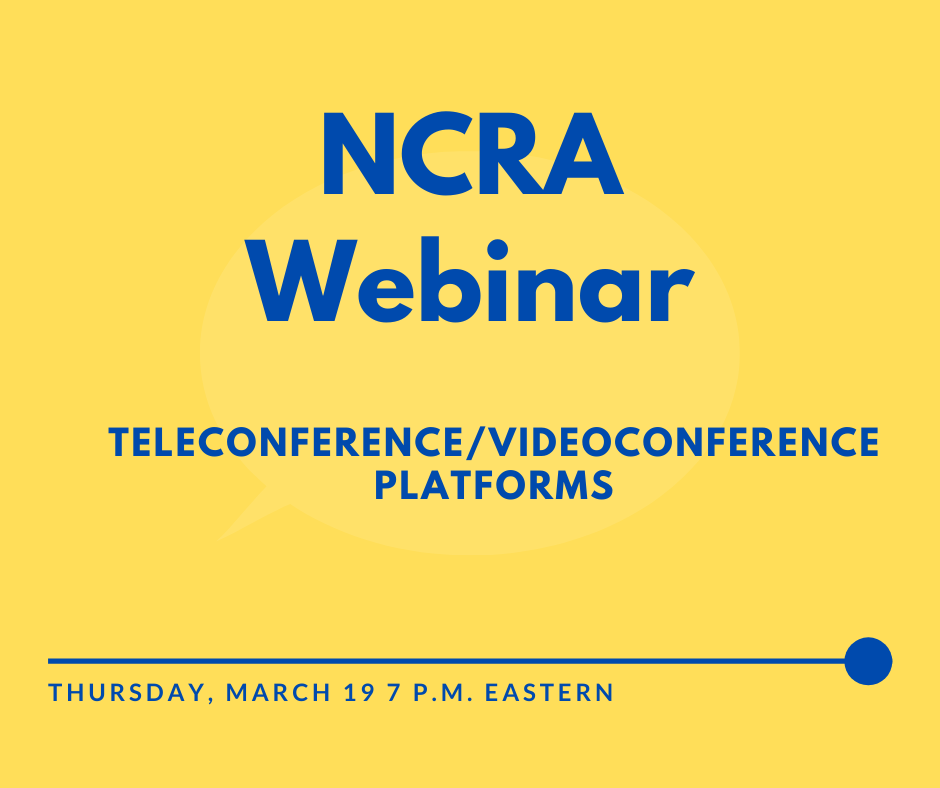 As NCRA, like the rest of the world, continues to adjust to how daily life and the ability to conduct business is being impacted by the constant efforts to halt the spread of the coronavirus, we encourage all members to be patient as your Board and staff reassess the status of scheduled and future planned events.
In light of the most recent recommendations by the Centers for Disease Control and other federal health agencies that the public avoid large gatherings and practice social distancing, NCRA has opted to postpone and possibly reschedule all events that were planned through May, including the 2020 Leadership & Legislative Boot Camp that was scheduled for May 17-19 at the Embassy Suites by Hilton in Alexandria, Va. NCRA will be contacting those who have already registered for the event with information about the reimbursement of registration fees. Information about new dates for this event will be announced in the JCR Weekly and by emails to members at a future date.
NCRA has also canceled the spring CLVS hands-on training and production exam that was scheduled to take place March 27 and 28 at headquarters in Reston, Va. NCRA will hold the training and testing again in the fall with dates to be announced at a later date.
Members who have already booked flights to these and other events are advised to contact their airlines directly to find out more about cancellation and rescheduling procedures.
Staff liaisons will also be contacting members of NCRA committees who planned to attend meetings scheduled to take place at NCRA's headquarters in Reston, Va. Options could include conducting those meetings via online conferencing platforms such as Zoom, Microsoft Teams, or Skype.
To learn more about these online conferencing platforms, NCRA Immediate Past President Sue Terry, FAPR, RPR, CRR, CRC, and Director Keith Lemons, FAPR, RPR, CRR, are leading a special webinar Thursday, March 19.
The webinar is now full!
If you purchased the webinar, please check your email confirmation. Because of demand, there are now two sessions, one at 7 p.m. and one at 8:30 p.m. Eastern. Once members or non-members register, they will be emailed a link to Zoom with information about how to sign into the meeting. We are trying to schedule additional sessions, and we will send out the information when we can. Thank you for your patience.
NCRA members are also encouraged to tune into the next NCRA Town Hall happening March 21 at 10 a.m. Eastern. Conversation will address the coronavirus and how reporters, captioners, videographers, and associate members can empower and sustain themselves and their families through these rough waters we face as an industry, along with the rest of the world. The NCRA virtual Town Hall meetings also offer members the opportunity to ask questions via the Q&A feature. Questions can also be submitted in advance to lbutler@ncra.org. Register here.
Finally, NCRA members are encouraged to begin checking the Association's website where the latest developments regarding the status of events, helpful webinars, and links to ensure the most current information is available and accessible about the constantly changing health landscape, will be posted. Watch for updates on the homepage of NCRA.org.