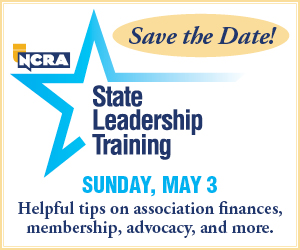 NCRA is presenting a special one-day State Leadership Training via the InReach platform on May 3 from 10 a.m. to 5:15 p.m. Eastern time. The event is open to NCRA members and nonmembers who currently hold state leadership positions or who aspire to do so.
Sessions will be led by experts in their respective areas. Topics on the schedule that will be discussed include meetings and conventions, finance issues, effective governance, membership recruitment and retainment, the nuts and bolts of association leadership, and successful grassroots advocacy. Attendees can earn up to 0.6 CEU, depending on how many sessions they attend.
"The NCRA State Leadership Training is a great opportunity to hone and improve your state association leadership skills from the comfort of your own home," said Jocelynn A. Moore, NCRA director, state government relations. "We look forward to you joining us for a day of informative fun and learning."
The member cost for the full day of offerings is $99, while the nonmember rate is $129. Attendees can also register for individual sessions at $20 for NCRA members and $25 for nonmembers.
To learn more about what's on tap for this event or to register, click here.