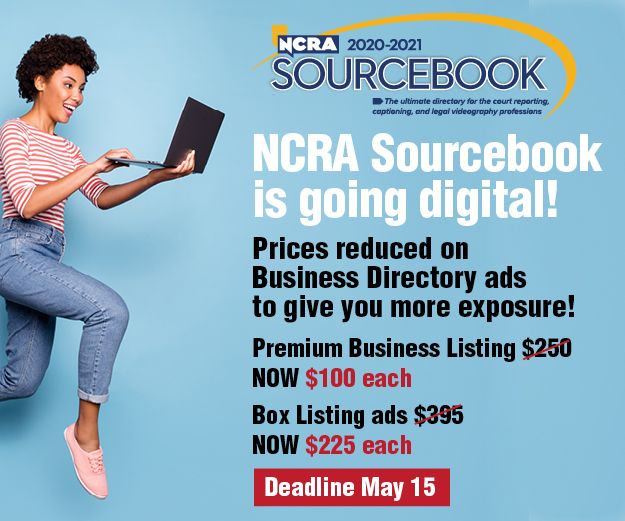 The extended May 15 deadline is approaching fast for submitting Business Directory listings or display advertisements for inclusion in the NCRA Sourcebook.
Due to the changing business environment from COVID-19, the 2020-2021 NCRA Sourcebook will be a digital version, which will include clickable links to make connecting even easier. Having all the NCRA Sourcebook information available digitally will make it even easier to share with new audiences. The NCRA public relations team will be sharing the NCRA Sourcebook link to legal trades, national legal publications, and groups that support paralegals and others in the legal profession.
All members are listed in this directory free. Members can choose to list themselves in other CBSA (core-based statistical area) locations for only $99. Also exclusive to NCRA members is the opportunity to advertise in the Business Directory section of the NCRA Sourcebook.
"We want our ads to be accessible and affordable for all members," said NCRA Director of Membership Natalie Dippenaar. "We understand that in this time of uncertainty, it is hard to make the decision to spend money on advertising. By pricing these ads at cost, we can offer as many members as possible the opportunity to invest in their businesses and their future."
These ad specials are available until May 15:
The premium business listing in the Business Directory is marked down from $250 to $100. Advertisers who opt for a premium listing in the NCRA Sourcebook will be listed alphabetically by state and CBSA. Premium listings include the company's name, address, email address, website, and a description about the services they offer. Premium listings are in black and white for a cost of $100. For an additional cost, firms can also be listed under additional cities and states.
Box listings in the Business Directory are marked down from $395 to $225. Alternatively, NCRA members may upgrade their business listing to a box listing. In addition to including everything in a premium listing, a box listing allows a logo or photo, the option to list under multiple cities, and the option to use an original design or JCR court reporting listing advertisement. Box listings are available in color. This option is now only $225.
Member listings for additional CBSA locations are $99. All NCRA members are listed once in their primary CBSA location, and members who serve larger regions may want to choose to be listed in a second location. For example, a person who works in Baltimore, Md., may want to also be listed for Washington, D.C., if the person finds work in both locations.
Display advertising ranging from one-sixth of a page to a full page is also available through May 15.
For more information about placing your ad and showcasing your business, download the NCRA 2020 Media Kit or email NCRA Development Relations Manager Jill Parker Landsman at jlandsman@ncra.org.