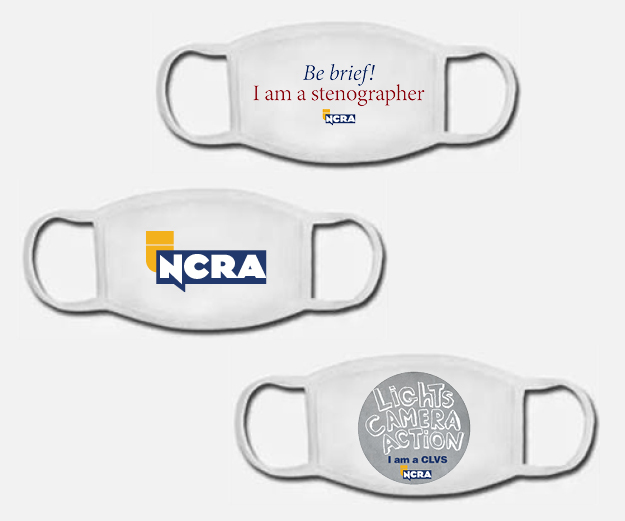 A number of new items have been added to the NCRA Merchandise Shop including adult and youth-size face masks that can be customized with the NCRA, NCRF, or several newly designed logos.
"What better way to support your national association and show your pride in your profession than by sporting a customized face mask while staying safe during these trying times," said Cynthia Bruce Andrews, NCRA Senior Director of Education and Certification.
"Since NCRA launched the merchandise shop, response from members has been very positive. Members are purchasing an array of items and have shared with us how much they like the quality of the products and the ease of customizing and ordering. Plus, the free shipping and easy return policy have won kudos from NCRA members who have shopped in the merchandise store," she added.
Newly released accessories include a bandana, ankle socks, an iPhone case, a fanny pack, a carry-all pouch, and a lunch box. For men, new items include a premium T-shirt, a premium tank top, and a moisture wicking performance T-shirt. In the women's aisle, check out the newly added premium tank top and T-shirt dress.
In addition to the new logo designs for the facemasks, other available designs include official logos for NCRA, NCRF, NCRA STRONG, DiscoverSteno, I Love Steno, certification logos, and more. Spreadshirt, the online company that supports the NCRA Merchandise Shop, takes care of the customization and ships directly to the customer. The company also offers customers an easy exchange and return policy.
Currently available items already include a variety of styles of men's and women's T-shirts, polos, casual tops, a baseball hat, coffee and travel mugs, a mouse pad, and a canvas backpack.
Members who purchase items from Spreadshirt are supporting their national organization's programs and scholarships while showing off the pride they have in being members of NCRA.
Be sure to frequently check the NCRA Marketplace on NCRA's home page to see what's new in the NCRA Merchandise Shop; new items are continually being added. NCRA will also announce new items and merchandise during special events. NCRA members can also take advantage of special sales such as free shipping and more.
Help advertise the NCRA Merchandise Shop. NCRA members who purchase items are encouraged to share photos of themselves sporting their swag. You might just get featured on the store site or in other marketing materials. Send your photos to pr@ncra.org. Happy shopping!