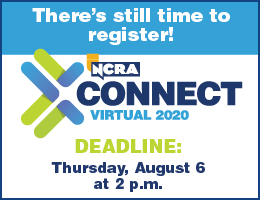 If you registered for the NCRA Connect Virtual 2020 event, check your inbox for an email giving you instructions on how to access the virtual platform. If you haven't registered yet, there's still time, so do it now! Registration closes Thursday, August 6, at 2 p.m. Eastern time.
To be sure you have the best experience possible participating in NCRA's first-ever national virtual Conference & Expo, attendees are strongly encouraged to log in early to get familiar with the platform, highlight interesting sessions, and complete their profiles so they are ready to go when it comes to the networking events.
Here are some reasons why you should attend NCRA's Connect Virtual 2020 event:
Want to learn more about what's happening on the schedule? Then visit NCRA Connect Virtual 2020 to see the full schedule, meet the speakers, and see registration fees, or take a minute to read the latest. Below are some links to JCR Weekly stories that will provide you with a glimpse of some of the highlights.
Finally, if you are registered for the event, you will be getting an email with a unique link to access the virtual event platform. Here are other resources for the event:
Please review the NCRA Connect Virtual toolkit 
NCRA Connect Virtual 2020 program
See you there!