By Allison M. Hall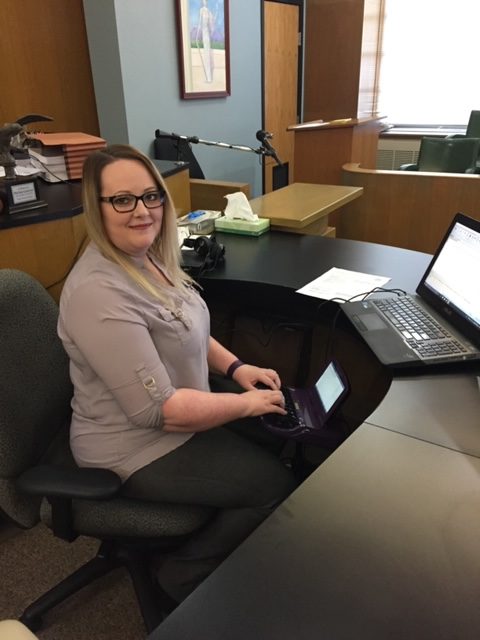 In Oklahoma we are fortunate enough to have a Preserving the Record Task Force that is compiled of Oklahoma Supreme Court justices, judges from across the state, staff from the administrative office of the courts, and court reporters. The task force has been in existence for the past three years. It has been an honor to serve on that task force. We have been able to collectively put our heads together to come up with many great ideas including: creating court reporting programs, changing current law and administrative rules that apply to students and temporary court reporters, raising the salary of a temporary court reporter, and Certified Shorthand Reporter (CSR) payment and testing regulations.
Oklahoma Supreme Court Chief Justice Noma Gurich has been a champion for stenographic court reporters in the state of Oklahoma. We are so fortunate to have her. In talking with Oklahoma District Judge Jon Parsley and some local attorneys at a social event about the dire situation of filling officialships in rural areas of the state, the idea of a grant was formed. The law firm of Burns & Stowers out of Norman, Okla., was instrumental in the process.
They were able to request that a $500,000 distribution be directed by Judge Parsley to the Oklahoma Bar Foundation as seed money to develop a scholarship, grant, and assistance program to encourage qualified court reporters to work as official court reporters in rural Oklahoma.
The grant was generated from money remaining from a class action suit. Funds that go unclaimed in such suits are typically placed in a trust fund by the legal firm representing the plaintiffs. Once the funds have been disbursed, any remaining money is either distributed as grants to nonprofit and charity organizations or, in some cases, returned to the defendants.
In early 2020, our committee was formed. Over the next several months of working as a committee with like-minded goals, we were able to finalize the policies and procedures and the application process. There are two components: One is an educational block grant that existing court reporting programs in the state of Oklahoma can apply for; the other is an employment grant that a court reporter who is an Oklahoma CSR and is willing to commit to working in rural Oklahoma can apply for to help with relocation costs. Currently, the court reporting schools in Oklahoma are going through the application process to request the educational block grant.
I am hopeful for what this means for court reporting education and the reporting job market in rural Oklahoma. I am so grateful to Chief Justice Gurich, District Judge Parsley, the Oklahoma Bar Foundation, and all who were involved in the brainstorming process and serving on the committee. The hope is that, in Oklahoma, this is the first of many grants used to further court reporting in rural areas of the state.
Allison M. Hall, RMR, CRR, is an official state court reporter from Tulsa, Okla. She can be reached at allie441@gmail.com.