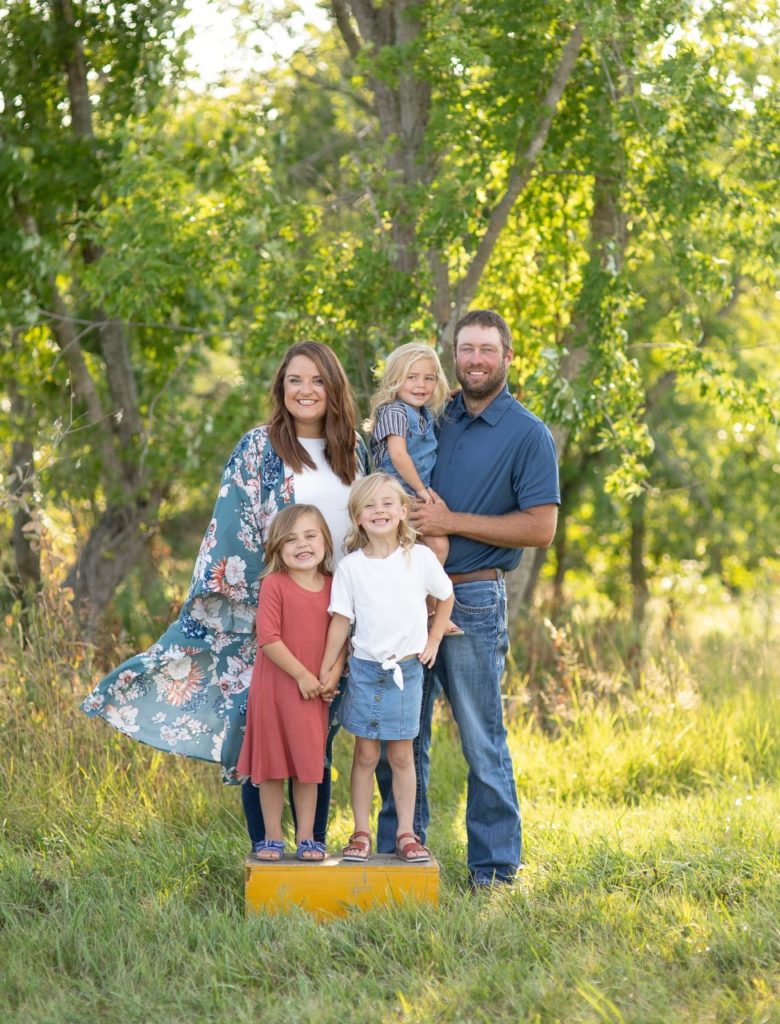 My name is Andrea Franje. I am 31 years old, and I have been married to my husband, Eric, for eight years. We have three beautiful little girls: Blakely, 7; Charlie, 6; and Gracie, 4. We live in New Sharon, Iowa, which is also where we grew up. We love raising our girls in a small-town atmosphere. Eric is a full-time farmer, so we are right in the middle of harvest. He works on his family farm, and we also have a small cattle operation of our own.
UTS | What got you interested in the program and what brought you to Des Moines Area Community College (DMACC)?
AF | I styled hair for 12 years, and I loved it. With my husband being a farmer, it is not uncommon for him to be out late at night. Once my oldest daughter got into preschool, we realized very fast that my late-night schedule was not going to work. I was going to need to find another job.
My court reporter friend, Brook Blackwell, RPR, CRR, had been posting on Facebook about court reporting jobs. I was able to go sit in on some hearings with Brook one Thursday afternoon, and I was intrigued with her job. I wanted to learn more about it. That following Saturday they were having an information meeting at DMACC. After that, I knew it was something I needed to pray about. I felt very compelled to apply. Thankfully, I was accepted.
UTS | What has been the most challenging part of getting through school, and what are you doing to overcome it?
AF | I think the most challenging part of school so far has been balancing my life. I never want anything to come before my family. I do not want any of them to feel like I am giving more of myself to my schooling than I am to them. This program really does require a lot of your attention, though. I always try to do everything with 100 percent effort.
I had to resign from some extracurricular boards. I knew I was going to have to take some things off my plate if this program was going to be doable for me. I try very hard to be focused on whatever I am doing at the moment. If I am in wife mode, I want to be giving that my all. If I am in mom mode or school mode or church mode or friend mode, I want to be sure I am giving it my all. I have found myself figuring out a new definition for living in the present.
UTS | What has been the best piece of advice you have ever been given?
AF | This question has been the hardest to answer because I have received so much great advice. I would say that there are a couple of things that stick out to me.
One: If this was easy, everyone would do it. Court reporting is such a small community of people that you inevitably feel like family even if you don't know them well. You are able to connect with them in a way that you cannot connect with anyone else. I think that is such a cool thing. It is like the secret language you used to have with your friends when you were little, except now we are all adults.
Two: You will fail in this program more times than you will succeed. This program is unlike any other program. Once you have passed a test, it is almost like you are back at square one. You don't get to relish in the moment of passing very long before you are hit with a higher speed you need to tackle. I try to keep this in the back of my mind when I do not pass a test. It can be discouraging at times to feel like you are hitting a wall constantly, but that moment when you do pass, it is so exhilarating!
UTS | What do you like to spend your free time doing?
AF | We love doing anything as a family. We installed two ponds in our pasture a few years ago, and we love to go out there with the girls to fish. We stocked it up really well, so they cast out and catch a fish right away. We also love to sing. My husband and I are on the worship team at my church, so our girls see us musically involved there all the time. My husband will sit down at the piano at night, and we all just sing whatever song he decides to play. Those are the moments that I know I will miss when my girls are all grown up.
UTS | Have any plans for when you finish school? What is your dream job?
AF | I would love to become an official reporter. With my family, I love the hours, benefits, and pay. I would love to work in District 8 when I graduate. It would be wonderful to be working in the district in which I live. I have been lucky enough to get to know some of the reporters in this district, and they are all wonderful. They have reached out and helped me through so much already. I am looking forward to the day that I can call them my colleagues.
Angela Franje is a student at Des Moines Area Community College in Newton, Iowa.