By Debbie Dibble
Don't be fooled! We all need a little Vegas right now; and, no, what happens is not going to stay there.
Vegas may not be at the top of your travel bucket list, but for those of us who have felt a sensory deprivation this past year, this place is a 180-degree change of scenery. The music, the lights, the energy, the excitement will bring your senses to life. The neon is glowing, the slot machines are spinning, not to mention the guy outside Planet Hollywood laying down crazy beats on pots, and pans, and five-gallon buckets, in front of a crowd of hundreds. The need to be part of this upbeat atmosphere is intoxicating.
I took advantage of being in Nevada to head over to the strip for some reconnaissance on the upcoming 2021 NCRA Conference & Expo, happening July 29-Aug 1, and here are my recommendations for a successful trip.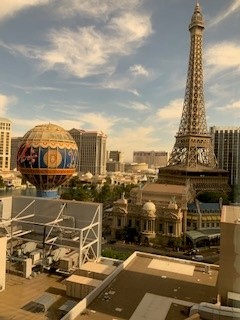 Book your room now
The room rate for a Saturday night stay was just shy of $500 a night, but you don't have to pay that. Due to the pandemic, our Conference specialists renegotiated our rates and locked us into an unbeatable price — but we also reduced our room block just in case the world didn't bounce back fast enough. You do not want to miss out on our room block. Make sure you secure your reservation before it fills up!
Rent your car now
If you are renting a car, do not delay! Cars are at a premium and so are rideshares. Uber and Lyft cars are difficult to procure and wait times can be long. Be prepared.
Activities
So much to do. So much to see. If gambling isn't your thing, AREA 15 is super cool. Neon displays to fascinate your eyes, "hang gliding" from the ceiling, the traveling Van Gogh interactive experience, the Meow Wolf's Omega Mart, and so much more. If shopping is your thing, you won't have to go far, the entrance to the Miracle Mile shopping strip is on the casino level of our event hotel featuring high-end boutiques specializing in fashion and jewelry.  For on-site entertainment at Planet Hollywood, see magician "Criss Angel MINDFREAK" in the Zappos Theater. 
If you want to get out of Las Vegas for some fun, you can choose from many reasonably priced options. Hop in a kayak and paddle up the Colorado River to the Emerald Cave or Black Canyon with a bonfire after to cook s'mores; or if visiting the Grand Canyon has always been on your gotta-go list, there are plenty of tours to be booked. You could also head to the Hoover Dam for a few hours for an educational experience or rent wave runners at Lake Mead.
Food
I ate myself into a food coma — and I was only here for four days, and I pretty much stayed within walking distance of Planet Hollywood. So much to tell you here, but the most important point is: Make a reservation and do it today for the most options. There is a Gordon Ramsay Burger on the Planet Hollywood property. The line is long all day every day, so make sure to get a reservation. But if you can't get one, the Café Hollywood right next door serves a burger that looks suspiciously similar to its neighbor and is delicious; and if you really want to blow the diet, their three Super Nova shakes —O.M.Goodness!
Across the street at The Cosmopolitan is Eggslut. Yup, that's what it is called. I waited in line for 30 minutes to order. Their signature dish is the "slut," a cage-free coddled egg on a house-made potato purée cooked in a glass jar and topped with gray salt and chives, served with a baguette. That's a little adventurous for me, so I ordered the sausage egg muffin that was divine. Is it worth the wait? They open at 7:30 a.m. and the line starts before 7 a.m.. The line stays 30 minutes-plus all day long … I think that answers the question! But if you are too hungry for that wait, on the floor below is Harry's, and their breakfast is great, too. They also have light options such as fruit plates and oatmeal that are excellent. 
But the most amazing experience at The Cosmopolitan in my estimation is Momofuku. As I said, I am not an adventurous eater, so it's no small praise for me to say that it was an incredible experience. This restaurant is a destination on its own, and its world-renowned reputation is warranted. The staff was beyond amazing, the chef was incredible, and the service is exceptional. Look up their ratings and reviews and you will know you have to stop here before you leave.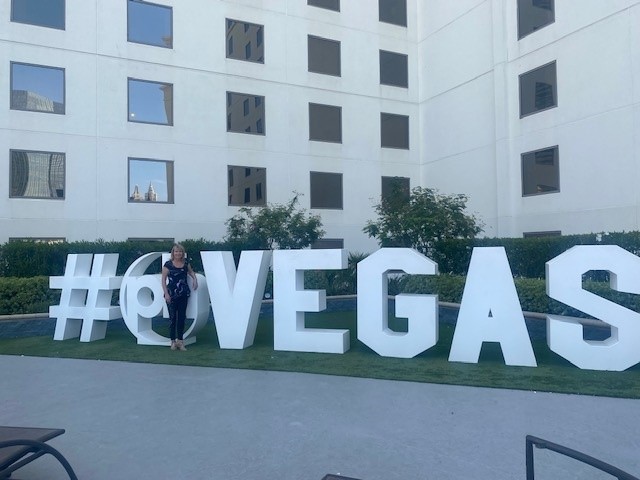 Next door at Paris is Mon Ami Gabi. I'm struggling for the right words! Wow is even an understatement. Their breakfast sausage was the best I have ever had. And their crêpes? I had lemon butter mixed berry. I love crêpes and have eaten them all over the country, and these were perfect!  They also offered Bananas Foster crêpes. I was sorely tempted to order that for my breakfast dessert, but my waistline has suffered enough for this research! The Paris is also home to Gordon Ramsay's Steak. To enter, you walk through a lighted "chunnel" to travel from France to England. The Caesar salad was delish, and the steaks were very impressive. Believe it or not, the price was rather reasonable, especially for Vegas. Again, make sure you have a reservation.
I hesitate to share the best off-property gem, because I don't want you all to flood there so I can't get a reservation: Lotus of Siam, repeatedly voted the best Thai food in America. There are two, one on Flamingo and one on Sahara. Sahara is the original location and the true experience, so if you can get a table there, do it. You may think your driver is lost as you travel through "The Historic Commercial Center District," but once you are inside, the ambiance is so warm, the tasting menu is phenomenal, and the waitstaff so welcoming, it will create an experience you will never forget.
At Planet Hollywood, you will find the Planet Hollywood Strip House and Yolös Mexican Grill. The steaks at the Strip House are topped with a black pepper crust and have many toppings to create your perfect combination (I had bleu cheese). It was the best of my trip. Reading backwards, you will understand what I am saying. I just couldn't leave a task half done, so as I headed out the door for the airport, I dropped in to Yolös. I have never met an enchilada I didn't like, and I was not disappointed. The food is spectacular and the ambience exciting.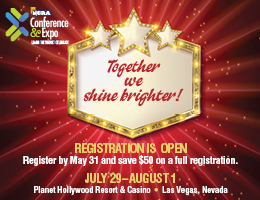 All of that is a small fraction of the restaurants and activities that await you this summer in Las Vegas!
But don't forget the most important part; you will be investing in yourself at the 2021 NCRA Conference & Expo, immersing yourself in the latest industry techniques, rubbing elbows with the best in the business, and learning what new and innovative technologies are being offered by vendors that support our profession.
You simply can't miss the greatest court reporting event of the year! See you in Vegas July 29 to Aug 1, 2021 at the Planet Hollywood Resort & Casino.
NCRA President-Elect Debbie Dibble, RDR, CRR, CRC, is a freelance court reporter and captioner from Salt Lake City, Utah.