By Leah Willersdorf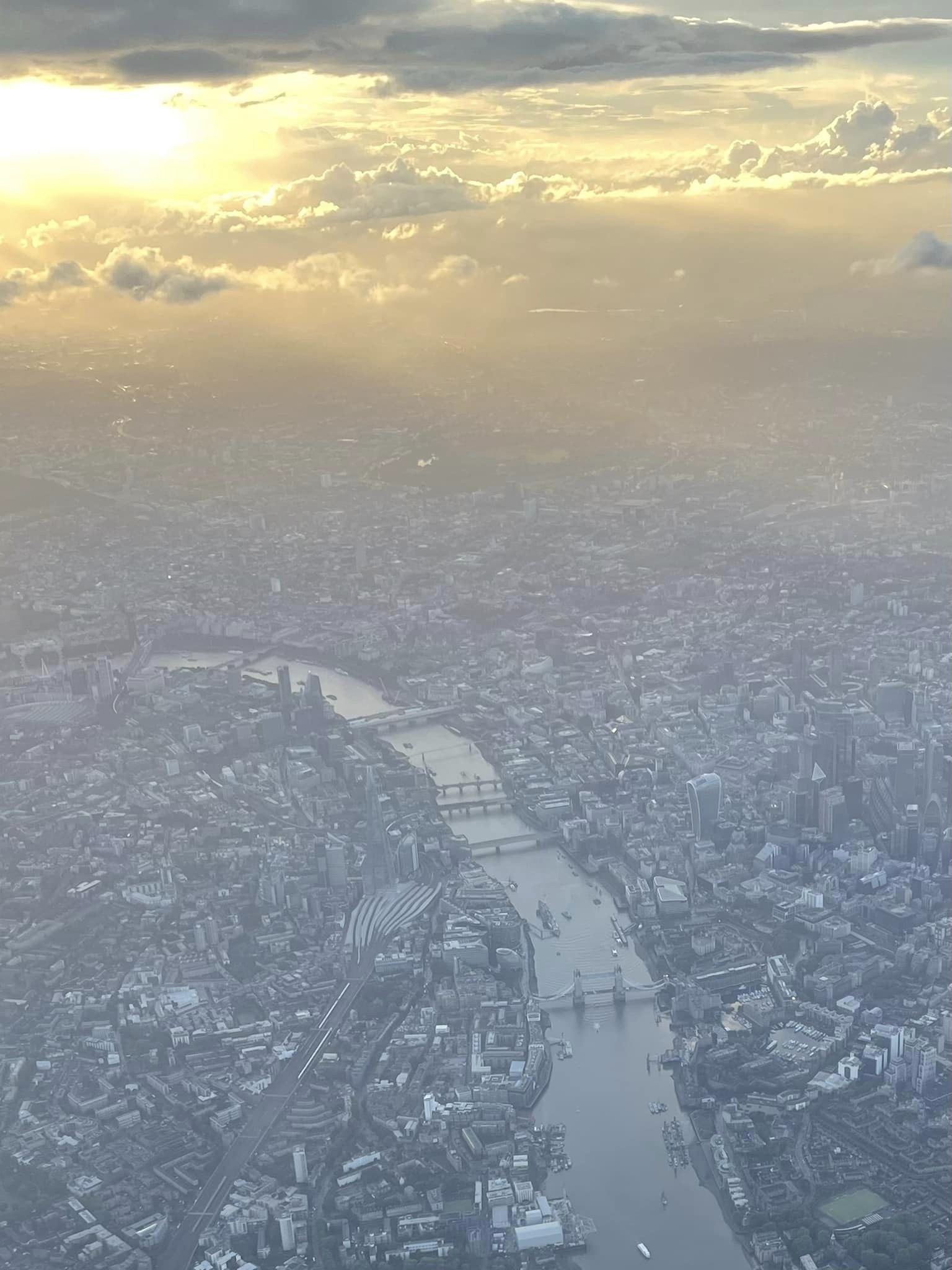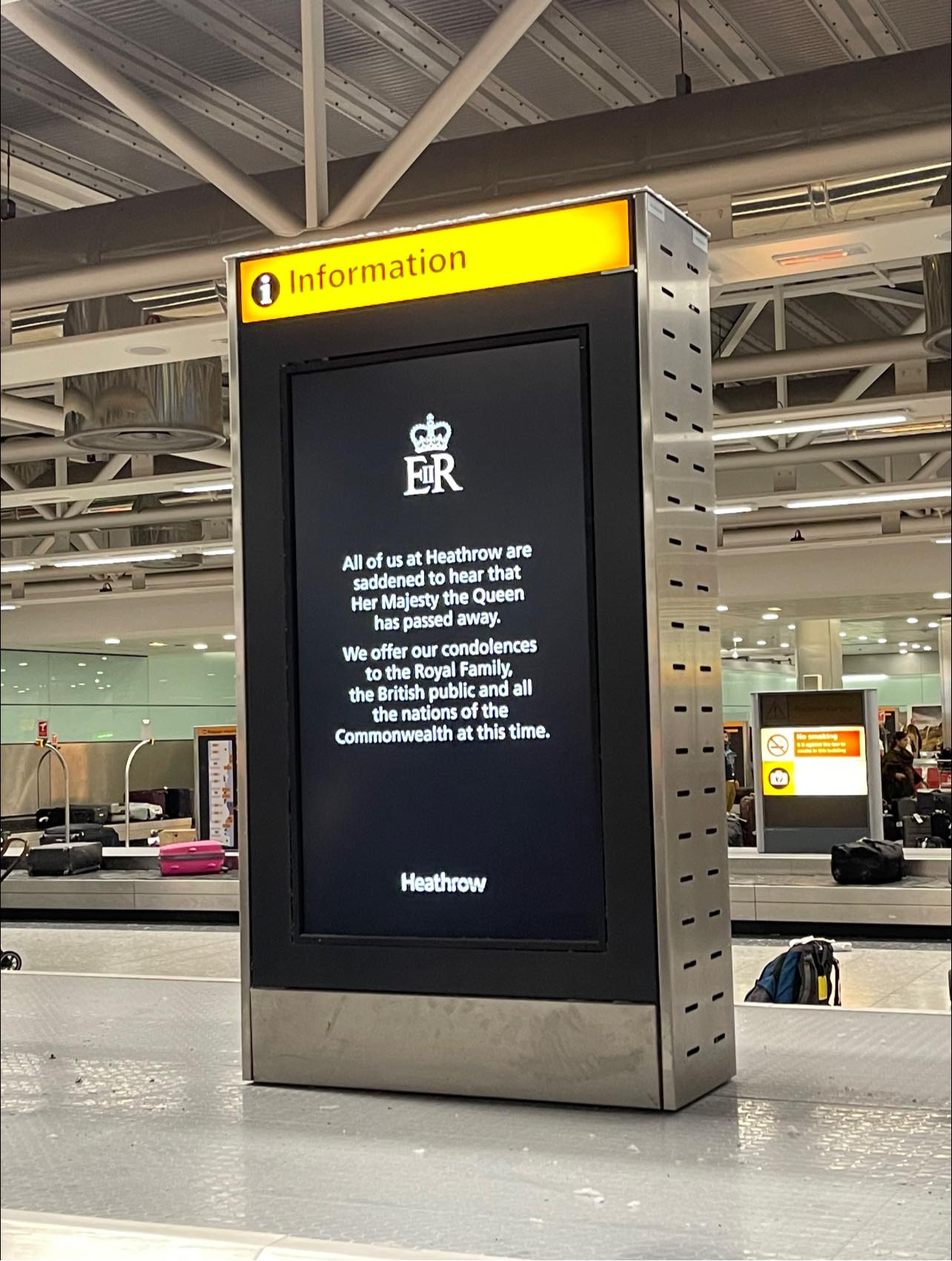 L to R: Flying into London from Oslo on September 8, 2022. Heathrow Airport informing travelers via information kiosk of the Queen's passing. Photographs courtesy of the author.
God saved our gracious Queen Elizabeth II for 96 years, 70 of those on the throne as the British monarch …
As I waited in the lounge at Oslo airport for my delayed plane late this afternoon, the reports coming in fast and furious were worrying, to say the least. Once boarded, I didn't want to turn my phone off, but as the plane began to taxi and I put my phone on airplane mode, I wondered if it could possibly be that she would be gone by the time I landed after this 1 hour 45 minute flight.
I stared out into the white, fluffy clouds as I reminisced of my primary school days when we would sing the then-Australian national anthem, God Save the Queen, practically every day (or maybe it just felt like it was every day) on school parade. I remembered how my grandmother would sometimes stand, hand crossing her heart, when it was played at the beginning of sporting events and how Christmas Day at 3 p.m. our family would gather to watch the Queen's speech.
Fast-forwarding many years, I then remembered my first year here in the UK in 1995 when I attended a Royal Garden Tea Party at Buckingham Palace where the Queen walked among us for a wee while (escorted, of course), and the times I saw traffic halted as Her Majesty was being escorted to some event where dignitaries were awaiting her arrival, and the time when my brother and my sister-in-law invited her to their wedding, hoping to return the hospitality of the tea party! (She couldn't make it, but a telegram was sent in her place).
You see, for me and millions of others, the Queen has always been there, whether on currency, on postage stamps, on the telly, or in a bulletproof car going past you as you sit in the back of a taxi wondering what the holdup is! Her fashion, millinery, jewels, and headdresses were always a sight to see, and guessing what color she would be wearing became a little game. And let's not forget the constant conjecture as to what she carried in her ever-present handbag.
When most people – and not all, I know – hear the words "United Kingdom," they associate it with the royal family. Sure, they may think of red telephone boxes, tea and crumpets, Big Ben, or wet weather, but there's just something about the Queen especially.
Queen Elizabeth was (saying the past tense still doesn't feel real) so many things to so many people all over the world, both in and out of the Commonwealth. While this country and the world now gets to grips with terminology changes (e.g. Queen's Counsel to King's Counsel, Her Majesty to His Majesty, the Queen's speech to the King's speech), the feeling around here for certainly the coming days is going to be something else; there's no doubt about it. Sad, somber, surreal. 
At precisely 7 p.m., and still not knowing what, if any, notifications there would be on my phone upon landing, I was flying over Buckingham Palace, and it felt a little odd as I took the photo. It was minutes later, as soon as the plane's wheels were down and the brakes applied, that I learned of the sad news.
I left this country on Sunday under the reign of a Queen. I returned today under the reign of a King. That's something I shall never forget.
Rest in peace, Your Majesty, with your beloved Philip.
God save the King, King Charles III.
Leah Willersdorf, RPR, CRR, is a freelance court reporter and captioner based in London, England. She can be reached at courtreporterlondon@gmail.com.

Statement of fact or opinion are the sole responsibility of the author and do not necessarily express the opinion of NCRA or anyone connected with NCRA.