NCRF hosted its first Ask Me Anything Zoom event earlier this month with the theme Take Off for Houston. "It can be scary attending your first NCRA Conference, even your fifth," said NCRF Trustee Sandy Narup, RPR, who came up with the topic. "There is so much going on and just knowing there are others in the same boat is comforting. I thought this theme was perfect to let our members know of the intricacies of how to get to the hotel, how to meet your colleagues or soon-to-be colleagues, and ending with how to dress for the Member Recognition Gala. Our speaker volunteers 'blasted' us off with such great information."
NCRF Secretary Treasurer Cindy Isaacsen, RPR, served as the event moderator, thanking closed captioner Rochelle Hopkins, RPR, CRC, of Captions First for her service, and toggling smoothly between NCRA leaders, NCRF leaders, standout court reporting students and newbies, NCRA Conference staff as well as fielding attendee questions.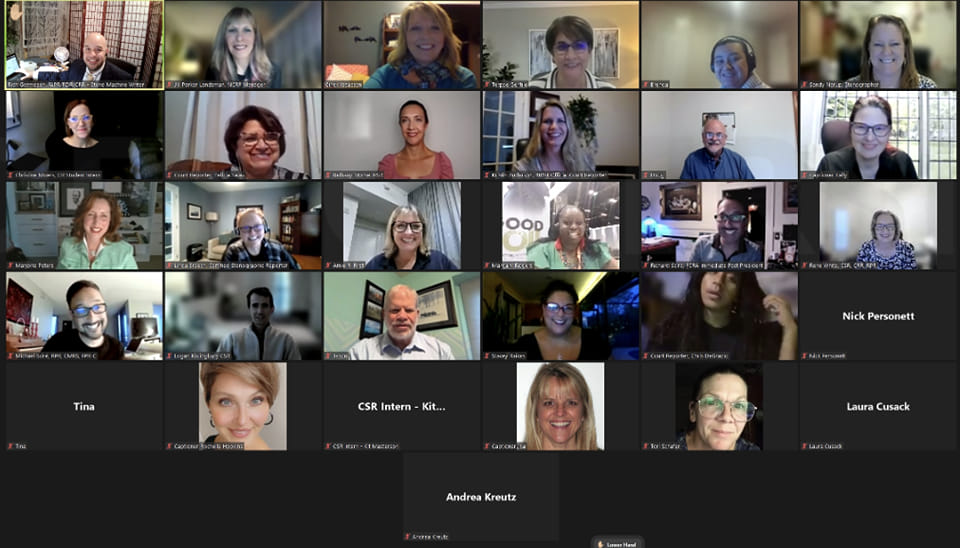 Noting that the return on investment is high, NCRA President Jason Meadors, FAPR, RPR, CRR, CRC, said, "Attending Conferences has been a life-changing experience. Every dime I ever spent on a Conference has been returned to me from networking, camaraderie, and the high value of the education I get. I encourage you to get on that same train."
NCRA President-Elect Kristin Anderson, RPR, offered her encouragement, excitement, and travel tips. "It will be warm and humid in Texas at that time so find activities in air conditioning!" she advised. "The Conference theme this year is: Make Every Connection Matter. Bring business cards."
"I have never been in a field that is more encouraging and inspiring toward students and new professionals than this one," said Bethany Morse, RSR, 2022 NCRF New Professional Reporter Grant winner. "[NCRA members] want to give you advice and find out what you need. That is the true gift of going to the Conference.
"The speed competitions blow me away to see the best of the best at their best. It inspires me to aspire to that level of greatness. Try to spend as much time meeting new people that you can. Talk to vendors, attend the speed competitions; it is all so inspiring," Morse added.
Facebook practice page participant and court reporting student Christine Moers echoed the fun of meeting new people. "I am super thrilled that [the Conference] is in Texas," Moers said. "Most of us are in school online. Going to Conference, you get to finally connect in person. The easiest way to meet people at Conference is to introduce yourself when you are standing in line. Say you are a student. That is how I met everyone. They light up the second you say you are a student."
Having grown up his whole life attending conferences with family, new freelancer Logan Kislingbury, RPR, joined his father's court reporting school and knew attending conferences would continue to be a way of life. "As a new student member, I went to the New Orleans Conference in 2018, then 2019 in Denver. I did go to Las Vegas as a court reporter," he said. "I had a blast at the Conferences, meeting a lot of incredible reporters. They have been just fantastic."
"This Hyatt is a lot more intimate than past hotels," said NCRA Director of Events Terpse Gentile. "There is an underground area with miles of food venues. Remember that our room block due date is July 3rd, so book early." Gentile stated that notifications and scheduled events will be on the new app, which will include a chat feature for attendee communications.
With a word to the wise for Conference attendees, NCRA Membership and Development Manager Brenda Gill advised, "Bring a Sweater. Wear comfortable shoes. Bring extra clothes. Bring light clothes."
NCRA Membership Chair Margary F. Rogers, RPR, CRI, explained that the membership booth at Conference will be a hub to meet people. She said, "Our goal is connections. Our theme is engagement. We will have gift cards for first-time attendees and raffles. Our committee members will wear sashes that read: NCRA Greeters. We want to promote student members. We want to hear from you: What does membership mean to you?"
Local Houston court reporters Rene White, RPR, CRR, and Leticia Salas, RMR, provided a warm Houston welcome and priceless travel and tourism tips. Highlights of what they spoke about can be found on their PowerPoint presentation here. White advised using Uber as the most cost-effective way to travel from the airports, and to bring bug spray.
Trustee Rich Germosen, FAPR, RDR, CRR, urged students to bring their writers with them but to keep them as carry-on and to never pack them in luggage. "You have to practice, right?" he asked.
A final Conference affirmation was provided by attendee NCRF Angel Richard Scire, RPR, who said, "It took just one Conference for us to be hooked. I am sitting here and looking at all the faces on the screen. I have relationships with most of you. I am the better for it. That just means so much to you and to the profession."
Missed the event? Watch a recording of it here. And stay tuned for NCRF's next Ask Me Anything event!
Trustee Pat Graves, FAPR, RDR, CRR, CRC, owner of Captions First, donated the closed captioning service provided by Rochelle Hopkins.