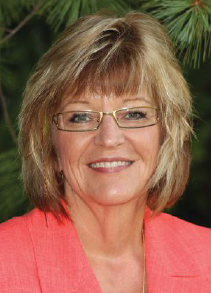 A dear friend of mine often tells me that nothing stays the same. She's so right. Circumstances change and life changes. Sometimes it seems like it would be nice if everything did stay the same; we'd go to work in the same place, our friends wouldn't relocate, families would remain intact, and life would be routine.
But who wants that? Do you want to be in a rut day after day after day? I don't. Yes, challenges are hard to handle. Stepping outside of your comfort zone is scary, but if you don't step outside that zone, you're destined to become stagnant — and worse than that — boring!
This year NCRA is focusing its efforts on recruiting more students into the profession. In order to do this, there are a number of things we should do — and one thing we must do, which is to take our pride in our profession to the streets. Aren't you tired of always having to use your fingers to mimic writing on the machine and say, "Yes, I'm the person in the courtroom using that funny little machine"? It's long past time that everyone knows what a court reporter is, and it's up to all of us to deliver that message. We're going to give you the tools to deliver that message, and that message can go to your local newspapers or television or radio stations, your local school system or colleges, a local military base, your favorite forum or social media site — anywhere there's an audience for that message.
While we're all working on educating the general public about court reporting, it's up to all of us to encourage the students in our training programs to dream about being court reporters, believing they can become court reporters, and inspiring them to persevere. We must work together to make NCRA a place where students and nonmembers want to join to become a part of our great association.
At a preconvention board meeting, the NCRA Board of Directors had a long discussion about the future of the stenographic court reporting profession. The Board decided that, over the next three to five years, NCRA must hyper-focus on an effort to recruit more qualified students into court reporting programs as well as to produce more court reporters from those programs. As part of this initiative, the Board agreed to mobilize a special task force to look at court reporting education from all angles to determine what can be done as a community and as a profession to do something dramatic such as triple the number of students in court reporting programs across the nation over the next five years. On the table for discussion will be just about anything that, as a community, will allow us to work together toward such a highly ambitious goal. This will not be a repeat of the Reporter Education Commission from 2005, but rather it will be an innovative approach to increasing the number of students entering reporting school and their graduation rates to keep NCRA vibrant, growing, and relevant to our members.
Our keynote speaker in Philadelphia, Dan Clark, shared some thoughts on dreaming, believing, and inspiring. One of my favorite quotations from his presentation was this: "The law of attraction is real. Likes attract likes. If you don't like what's real, change what's attracting it." No longer can we remain a routine, humdrum organization that offers certification via analog audio recording, continuing education only through in-person seminars, or a static website. We must remain flexible, adaptable, and inventive. We need to be an association that reporters want to belong to, not feel they have to belong to.
Online testing is well under way, which allows NCRA to deliver preliminary results to candidates within hours of completing an exam. Yes, there have been some adjustments that need to be made to the system along the way, but we are working on making those adjustments. We're developing new, convenient, and creative ways to earn Continuing Education Units (CEUs). Our website is continually being updated to provide you with customized information about your profession. Are you taking advantage of all that NCRA has to offer you to keep yourself current? Are you willing to step outside of your comfort zone and hop on our grassroots realtime training program known as TRAIN? Are you willing to be proud of your profession, become a StenAdvocate, and tell the world what it is you do?
Seasons change, people change, circumstances change, life changes. NCRA can change and still remain a steno-centric organization. Don't be afraid of change; nothing stays the same. That doesn't mean change can't be wonderful and exciting. Dream, believe, inspire.