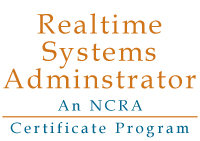 NCRA and the Realtime Systems Administrator Committee would like to congratulate our 20 new NCRA Realtime Systems Administrators who passed the Realtime Systems Administrator Credentialing Exam at the 2013 NCRA Convention & Expo in Nashville, Tenn.
Please welcome our new NCRA Realtime Systems Adminstrators:
Amos, Debbie S.
Bursky, Richard B.
Chiodo, Lou
Constance, Lee
DeVries, William L.
Dierksen, Jessica
Entrekin, Risa L.
Franges, Liebe
Gerard, Henny H.
Hanna, Kelly
Hourigan, Terri A.
Kent, Brandi
Kohrs, Randy B.
Lee, Constance
Lemons, Keith
Liss, Sheri
Mays, Cheri
Rawlins, Dolores A.
Worsham, Lisa
Young, Dana L.
About Realtime Systems Administrators
Realtime Systems Administrators are trained to handle any realtime technical situation that may arise in the courtroom or in a deposition. In the legal environment, time is money and in  pressure situations with time constraints the norm, you'll be glad a Realtime Systems Administrator is part of the team.
Because Realtime Systems Administrators are schooled in all areas of the litigation support environment—and often are court reporters themselves—they carry an insider's knowledge in addition to their technical expertise. Not only will they work to find the most efficient and effective answers for your situation, they likewise can support any type of software you might throw their way—from LiveNote, CaseViewNet, and CT Summation to Bridge, Denoto, Visionary, SpecHE, and TeleView, and more.
For more about the Realtime Systems Administrator Progam please click here.