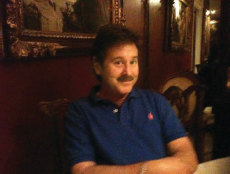 On April 18, NCRA and the court reporting profession lost a goodwill ambassador and reporter role model when Thomas Hughes, age 58, lost his courageous battle with cancer.
After graduation from high school in Anderson, S.C., Thomas moved to Jacksonville, Fla., where he attended and graduated from the Stenotype Institute of Jacksonville Beach. He joined NCRA and attained his RPR in 1978. Thereafter, he achieved his RMR, RDR, and, in 1993 and with great consternation, his CRR, which was, in my opinion, his most celebrated personal achievement. Reporting was his true passion.
In 1984 Thomas moved to Fort Lauderdale, where I met him, and began his reporting career in South Florida. He became involved in the Florida Court Reporters Association, where he served as Southern Director, Secretary, Vice-President, President-Elect and President (2007- 2008). In 2007 he launched the FCRA Realtime Speed Contest. He continued to dictate and score the test. It is still in existence today and a highlight at FCRA annual conventions.
Thomas was a past member of the NCRA Speed Contest Committee, Realtime Contest Committee, and Testing Verification Committee. He served as the Official Reporter for the 1997 NCRA Convention in Orlando. He also served as Chief Examiner for the RPR, RMR, and CRR examinations. But one of his most renowned attributes was mentoring. Countless reporters throughout the country sought his advice and counseling, and he was always genuinely happy to accommodate.
Thomas loved boating and water sports. As a child, he water-skied on the lakes of South Carolina, an activity he mastered to the point of winning several national awards. Later in life, his favorite hobby was cooking (and eating) gourmet food. He had several shelves in his kitchen that were dedicated to cookbooks. He and his partner of 33 years, James Thurman, loved their beautiful home. Nothing made him happier than entertaining their good friends there and playing his grand piano, which he loved dearly.
For those of you who are fortunate enough to have heard Thomas play the piano at past NCRA conferences, keep in mind, he never had a piano lesson and he could not read a single note of music. He played everything by ear. If there was a particular song that appealed to him, he would simply practice it until he perfected it. Although he often acted coy when asked to play, he relished the opportunity.
There was nothing in the world, though, that meant more to Thomas than his beloved pets. He owned many throughout his lifetime. They brought him immeasurable pleasure, especially during his illness.
Thomas will be remembered, most certainly, for being a real character with a true zest for life. He was funny, and he was brimming with Southern charm. He was a wonderful friend and mentor to many. I miss you, dear friend…write on!
Teresa F. Durando, RPR
Fort Lauderdale, Fla.