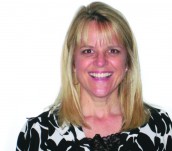 CART provider
Currently resides in Palm Bay, Fla.
MEMBER SINCE: 1985
GRADUATED FROM: Orlando College
THEORY: Stenograph
WHY DID YOU DECIDE TO BECOME A COURT REPORTER? HOW DID YOU LEARN ABOUT THE CAREER?
I thought I wanted to be a lawyer. When I was a sophomore in high school, I met Gerry Ryan, a court reporter in my county, and he told me all about his career and I was hooked. I knew right then that's what I wanted to do. After high school, I went to court reporting school, and when it was time to intern with an agency, Gerry was kind enough to have me learn the ropes with him. After graduating college and receiving my A.S. degree, Gerry hired me, where I worked in his firm for 26 years. Working with Gerry, he gave me the love of the profession I still hold to this day.
I did a little bit of CART work and knew this was something I wanted to do full time. After Gerry's death in 2011, I left the legal world of court reporting and became a full-time CART Provider. After 28 years in this profession, I am truly blessed with this path my career has taken me.
WHAT HAS BEEN YOUR BEST WORK EXPERIENCE SO FAR IN YOUR CAREER?
I grew up and live on the Space Coast of Florida and watching the space shuttles take off and land was sim­ply a part of my life. As a court reporter, I covered many hearings and depositions out at NASA/Kenne­dy Space Center. In 2003, the Space Shuttle Columbia exploded on its way back to KSC. It was a terribly sad time for the country and for my hometown. I was asked to work at the press site at KSC for seven days captioning the three-times-a-day accident briefings and also the three memorial services. It was such an emotional experience and one that I will never forget. I am so honored I was a part of that.
WHAT SURPRISED YOU ABOUT YOUR CAREER?
What has surprised me the most about being a court reporter and CART provider is how robotic I am when I am working. The words will come from the speaker's mouth to my fingers, and I may not be really thinking about what is being said; I am simply doing my job and writing the words. I will never forget a murder trial I covered and hearing the horrible testimony of how the victim suffered and died. During the three-week trial, I did my job and did not let the emotions get in. Only when it was all over and the defendant was found guilty and sentenced to death did I actually think about what happened to the victim and cried for her.
WHAT ARE YOU MOST PROUD OF IN YOUR CAREER?
Since I started my career, I have always wanted to become a Registered Merit Reporter, but I could not seem to pass the test. Oh, the nerves! I would try and try, then take a break, then try again. I gave up for many years, simply thinking I wasn't good enough to pass the 260 wpm. It seems like I could pass everything else, but not my RMR. Then, 10 years after obtaining my RPR, I finally passed my RMR. Never give up on your dreams! I am so proud of myself for not giving up and so proud that I passed. I love seeing RMR next to my name!
HAVE YOU ACCOMPLISHED SOMETHING NOT RELATED TO YOUR CAREER THAT YOU WOULD LIKE TO SHARE?
My husband and I have a 40-foot motorhome and for the past seven years we have been able to take a few months a year to travel the United States. We have been to all 50 states, and 49 of those in a motorhome. We have made wonderful memories together that I truly treasure. And thanks to technology, there are times I am able to provide remote CART while traveling on the road. Work and play? A perfect combi­nation!
FAVORITE BRIEFS
-BT a little bit
NAEURPL any way, shape or form
KROPBG correct me if I'm wrong