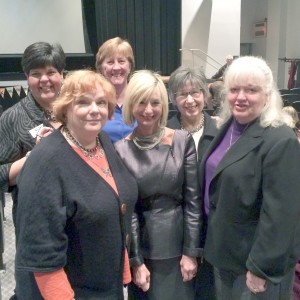 Last year, the Community College of Allegheny County in Pittsburgh, Pa., won a challenge set by NCRA to help boost student membership with the association. Last week, students at CCAC celebrated that win with a day-long, specially tailored mini convention provided to them by NCRA. CCAC was one of 22 NCRA participating schools to join the challenge and won for successfully encouraging 100 percent of CCAC students to hold membership in the association.
"More than 35 court reporting students attended the event," said Cynthia Bruce Andrews, NCRA's Director of Professional Development Programs, who was on-site to represent the association. "Everyone found the information shared by the presenters very helpful. The enthusiasm shown by the students and administration was contagious."
The day's schedule of events included sessions that addressed tips for test taking, planning for success in the court reporting profession, comma basics, a luncheon, and door prizes and giveaways throughout the day.
"CCAC is so grateful to NCRA for hosting this mini convention," said Marybeth Johnson, CRI, the school's court reporting program director. "The speakers were diverse in their topics, the students engaged, and the door prizes greatly appreciated."
Among the presenters during the day were Marybeth Everhart, RPR, CRI, CPE, national marketing manager for RealtimeCoach, who led a session about test-taking skills for online test takers. Also on the schedule was veteran teacher and author Margie Wakeman Wells, CRI, who taught a two-part session on the proper use of commas. Wells, who serves as an online education consultant for the College of Court Reporting in Hobart, Ind., is also the author of several punctuation and grammar books including Court Reporting: Bad Grammar/Good Punctuation.
NCRA Vice President Nativa Wood, RDR, CMRS, a retired official court reporter from Harrisburg, Pa., also addressed students at the event and provided tips, advice, and insights in a session entitled "Planning for Success."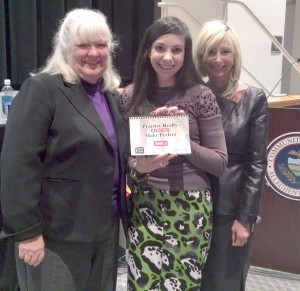 "Students are so appreciative when we do events at their school. Hearing about test taking, planning for success, and, of course, grammar from industry professionals keeps them engaged and moving toward their goal," Wood said. "NCRA recognizes that when we engage students during their time in school, we are setting the stage for those students to become lifelong members."
Prizes given away included $200 donated by Karen Nickel, owner of Nickel Reporting Services, Pittsburg, Pa., whose daughter, Sara, is a CCAC student. The $200 was won by student Jill Smith, while student Liz Kapp, winner of a set of drill books donated by Wells, exclaimed, "I love drills!"
"Who knew that our students could engage in comma dialogue for close to four hours?" said Johnson, who was presented with a poster from the students at the event's close.
"The mini conference started with the Steno BE: and each student filled in the blank, for example: Be motivated, Be fast, Be kind, and so on. It was a wonderful day," said Johnson.
For more information about NCRA's mini conventions, contact Cynthia Andrews at candrews@ncra.org.