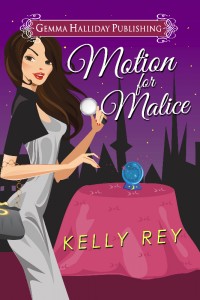 Motion for Malice, the second mystery novel authored by NCRA member Kelly Nasuti, RMR, CRR, CBC, debuted on bookshelves both real and virtual this week. The new release is the second in a two-book contract between Nasuti, who writes under the pen name Kelly Rey, and Gemma Halliday Publishing. Nasuti's first book, Motion for Murder, was released in September 2014.
Motion for Malice tells the story of Jamie Winters, a legal secretary who arrives at the office of Dorcas Beeber, her psychic medium, for a reading only to find Beeber dead apparently from a blow from her own crystal ball. Walker becomes the prime suspect in the murder but knows it is clearly a setup. Her only clue to the real killer's identity is a black SUV parked near the scene of the crime. Desperate and running out of time, Jamie enlists the help of her landlord's eccentric teenaged niece, Maizy, as her unlikely sidekick to help wade through the pool of disgruntled clients, a family with divided loyalties, a creepy ex-boss, and incriminating news reports to find the real killer before Jamie's future includes a jail cell.
"The story piggybacks off of the general skepticism a lot of people seem to have about psychic mediums, with a dash of added criminality," said Nasuti. "I like eccentric characters, and I think I've met a few new ones in Motion for Malice."
Nasuti, who has been a court reporter since 1989, operated as Regional Reporting Inc., until 2005 when she joined VITAC, a full-service closed captioning and subtitling company. She currently works as a full-time captioner.
She said she has written her entire life and plans to continue to do so, noting that she is about 100 pages into her next book in the series.
"I hope there will be lots more because it's fun to write a series. I was more than pleased with the success of my first book. It achieved bestseller status, which is exciting and very humbling. I'm so grateful to the readers who put there," Nasuti said.
Nasuti, who is based in New Jersey, is also a member of Sisters in Crime, a group that promotes the ongoing advancement, recognition, and professional development of women crime writers. Murder for Motion is currently available in e-book format for the Amazon Kindle and the Barnes & Noble Nook. Motion for Malice is also available via iBooks, Kobo, and Smashwords, as well as in print at Amazon.com and Createspace.com.