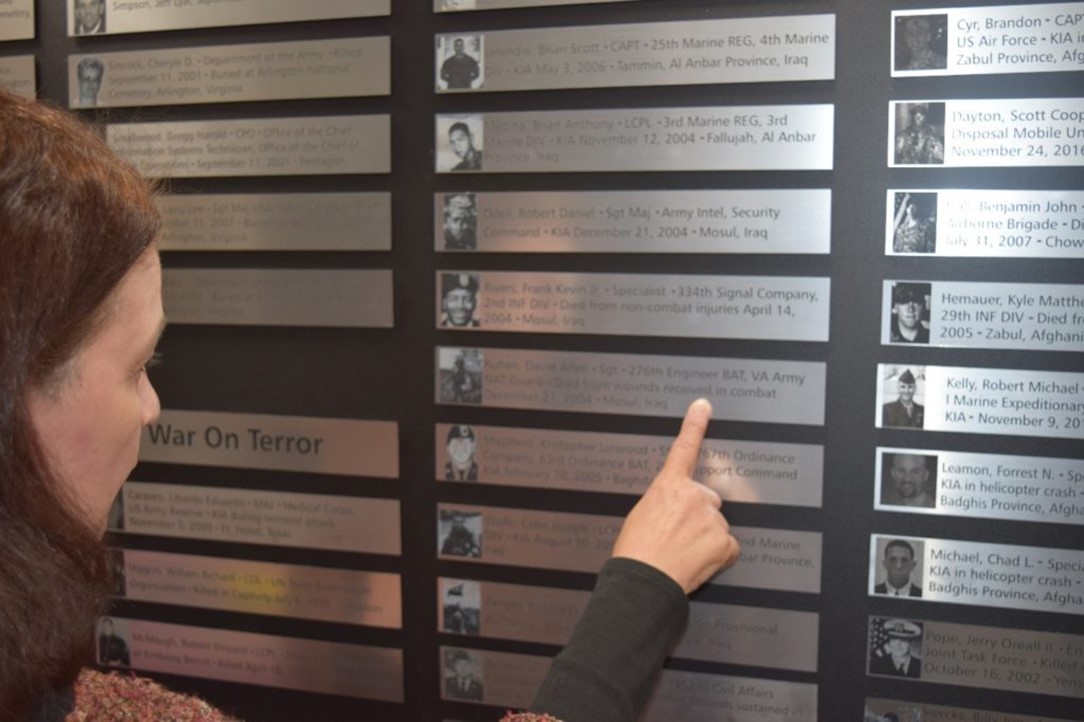 Gold Star Mother Sonja Ruhren points to her son's nameplate on the Freedom Museum's Wall of Honor in Manassas, Va.

The important purpose of Veterans Day is to honor America's veterans for their patriotism, love of country, and willingness to serve and sacrifice for the common good. The Library of Congress (LOC) Veterans History Project (VHP) is the first of several oral history projects that the National Court Reporters Foundation (NCRF) and National Court Reporters Association (NCRA) members have supported through NCRF's expanded Oral Histories Program. NCRA members who volunteer their services have worked with NCRF and the Library of Congress to record and transcribe the moving stories of many U.S. veterans and Gold Star Families, building a legacy of the diverse group of men and women who have honorably served our nation.
In April the NCRA and NCRF renewed a five-year memorandum of understanding with the Library of Congress to continue transcribing the oral histories of U.S. military veterans. Representatives of NCRA and NCRF as well as representatives from the Library of Congress and VHP met in Washington, D.C., for a signing ceremony.
"We at the National Court Reporters Association and Foundation are thrilled to continue this collaboration with the Library of Congress Veterans History Project," said NCRA Executive Director Dave Wenhold, CAE, PLC. "We frequently hear from our court reporters and captioners about the transformative experience they have in working with the project … All these people are true heroes, and we are honored to be a part of that."
According to Wenhold, NCRA court reporter and captioner volunteers have transcribed more than 4,500 oral histories and have conducted more than 1,500 oral histories with military veterans through this agreement.
NCRA will mark a decade of transcribing these oral histories next year and is continuing to contribute transcriptions to the Library of Congress. One such event was held in September at the Freedom Museum in Manassas, Va., where several veterans who participated expressed what it meant to them to share their stories and why preserving them is so important.
"We are honored to have NCRA approach us about doing interviews here," said James Porter, president of the Board of Directors at the Freedom Museum. "It's the perfect place because the guys are surrounded by all of the things here that remind them of their time in service."
"It was such an honor to be a part of this noble endeavor," said April L. Crites, RMR, CRR, an official court reporter from Cincinnati, Ohio. "I am already excited about helping capture another brave soldier's memories."
When asked what made him participate in this event, Army veteran Tim Seaman said, "It's important for me, I feel, for future generations to know there are people that care not just about themselves but care enough to commit a part of their life to serve something greater than themselves."
Many veterans have never made any formal record of their experiences, but they are willing to sit down and talk with someone who will listen. If you are interested in volunteering with NCRF to transcribe an oral history, learn more about the Veterans History Project here.