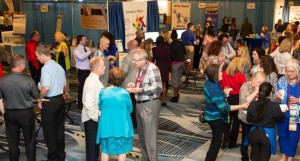 More than three dozen vendors will be on site at NCRA's 2015 Convention & Expo, July 30–Aug. 1 in New York City at the New York Hilton Midtown, to showcase the latest in new products and services specifically for the court reporting profession. Vendors will be offering products ranging from software to equipment to support services and more. Vendors sponsoring convention events include DepositionConferencing.com, Esquire Deposition Solutions, MeetingRooms.com, Mercer, Realtime Coach, StenEd, and Thomson Reuters.
Visitors to the MeetingRooms.com booth will get a first-hand glimpse at the company's booking tool customized for court reporting firms.
"We understand the pain of sourcing meeting rooms for jobs," said Sherry Laurino, the company's business development director for North America. "We heard from the largest firms at the NCRA Firm Owners Executive Conference in February and developed the world's first booking tool customized for court reporting firms. We're excited to share the benefits of this new technology with the entire court reporting community at the NCRA Convention & Expo in New York City."
According to Michael Cajal-Willis, eastern territory account executive for RealLegal, NCRA's convention is strategically important because it provides the company with the opportunity to be a part of the court reporting industry's leading event, learn about new practices, and maintain customer and industry relationships. RealLegal is also an NCRA convention sponsor.
"RealLegal is a leading provider of transcript and media production software to the court reporting industry. Our software creates secure transcript file formats and provides reporters and agencies with the ability to securely edit, format, and transmit deposition transcripts as well as bundle and link transcripts to exhibits and video," Cajal-Willis said.
Below is a complete list of the exhibitors that will be showcasing their products and services at this year's NCRA Convention & Expo.
Advantage Software
Alderson Reporting
AristoCAT
ASL Interpreter Refferal Service, Inc.
Bryn Mawr Equipment Leasing
Caption Colorado
Caption First
CRC Salomon Reporting
David Feldman Worldwide Court Reporting
Dictionary Jumpstart/EduCaption
DTI
eDepoze
Esquire Deposition Solutions
ev360 Educational Solutions
FirstLease, Inc.
Hardeman Academy of Realtime Training
InFax, Inc.
MeetingRooms.com
New York Career Institute
Pengad
Pohlman USA Court Reporting
ProCAT
ProctorU
Realtime Coach
Remote Counsel/Courtroom Connect
SmartDeps
Soma Ergonomics
StenEd
Stenograph
Stenovations, Inc.
StenoWorks
net
The Open Steno Project
The Varallo Group
Thomson Reuters/RealLegal
Transcriptguard
YesLaw
Full or partial convention registration includes an Expo pass. Individual passes are $25.
Other highlights for the 2015 NCRA Convention & Expo include a keynote panel of seasoned professionals from all backgrounds who will share their stories, including what impact court reporting and captioning have had on their lives, which will be led by Dom Tursi, an official court reporter and director of The Gallery of Shorthand in Islip, N.Y.,; the installation of NCRA's 2015-2016 Officers and Board of Directors; and the presentation of the Distinguished Service Award — the highest award bestowed by NCRA.