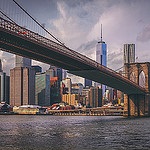 In New York City, if you want to get a pastrami sandwich at 3:45 a.m., you will find one. So I wanted to give you some of my favorites as a place to start while you navigate the more than 5,000 restaurants in New York.
Restaurant Row caters to the Theatre District and is at Eighth Avenue and 47th Street. La Rivista, Becco, Joe Allen, and Le Rivage are all fabulous. La Rivista has merged with Broadway Joe's Steakhouse (the latter has been permanently closed), and it is one of my favorite places. It offers great Italian food in an authentic atmosphere. Becco, right down the street, boasts homemade pasta in three varieties brought to your table and has an all-you-can-eat option.
Joe Allen is simply a trendy and cool place. The limited menu everyday means that whatever the chef bought at the market is on the menu. Joe Allen offers fabulous food in a casual NYC atmosphere.
My friend at Le Rivage has been in business for a long time. His son is now the chef and offers authentic French food. Don't pass up the onion soup!
All of these restaurants will be busy between 6 and 7 p.m. because they cater to the theatre crowd. So if you hit it just right, you can miss the crowd. Or if you are going to the theater, these restaurants understand that, and they will make sure that you are on time for the curtain. Also, all of these restaurants will have patrons in casual clothes, as well as fancy theatre attire. The rule here is: If you feel comfortable in what you are wearing, then you will be fine. But then again remember, you're in NYC, so don't be surprised to be sitting next to someone who is dressed to the nines!
The Palm Restaurant has multiple locations in NYC, but my favorite is located at 250 West 50th St. The decor is unique and the food is outstanding. This is a place where you would want to step up your attire.
Sardi's restaurant is a classic due to the hand-drawn caricatures of all the famous entertainers that have walked through the door since 1927. It's located at 234 West 44th St. between Seventh and Eighth avenues.
Closer to the New York Hilton Midtown is Rosie O'Grady's, which offers American cuisine. It is located at 52nd Street and Seventh Avenue.
Why not do some sightseeing over lunchtime? Grand Central Station is absolutely an architectural gem. Walk through the main floor and stop and look around and feel the hustle and bustle of New York. You will witness firsthand the meaning of a New York minute! In the basement is an incredible food court that offers something for everybody. On the main floor are specialty shops that allow the daily commuters to pick things up on their way in and out of the city.
Close to the hotel, at Lindy's, at 54th Street and Seventh Avenue, the sandwiches are bigger than big, so you might want to split one. My pick is the Jackie Gleason sandwich with a slice of cheesecake!
Another architectural gem is the Empire State Building. Of course you can buy tickets and go inside of it and up to the observation deck for a fabulous view. But another suggestion would be to go to the View, which is the restaurant lounge on top of the Marriott Marquis Hotel in Times Square. You will feel as if you were on top of the world! This is a rotating palace, and after dark, it seems as if you can reach out the window and touch the top of the Empire State Building, which will be lit up in pure New York fashion.
A word of advice: A sandwich on Seventh Avenue and 42nd Street or 43rd Street and Broadway will be double the cost of the same sandwich on Ninth Avenue and 50th Street. Capiche? Oh, and make sure you have some New York-style pizza — thin, crispy, tasty. It should cost a couple of bucks at the most. Ray's Pizza is located between 53rd and 54th streets on Seventh Avenue, a short walk from the hotel. And if you want to fit in, fold it in half when you're eating it and never use a fork or a knife.
Now for the most important information: Starbucks is located on the southwest corner of 53rd Street and Sixth Avenue. There is also a Starbucks located at 51st and 52nd streets and Sixth Avenue. But the one on 53rd is very large and is open from 5:30 a.m. to 11 p.m.
Lastly, I encourage everyone attending the convention to stroll Central Park at least for a few minutes. Maybe in the morning after hitting Starbucks. The entrance to the park is only a few short blocks away. Have a seat and relax and take in for a few minutes the life in the City That Never Sleeps. Of course you could do the same at Times Square, but you might be standing next to the Naked Cowboy or Mickey Mouse.
Bon appétit!