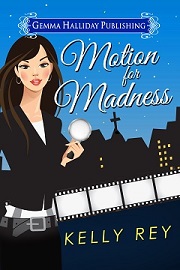 Motion for Madness, the third mystery novel in a series authored by NCRA member Kelly Nasuti, RMR, CRR, CRC, debuted on bookshelves both real and virtual on Feb. 15.
The new release is the third in a series by Nasuti, who writes under the pen name Kelly Rey. The novel is published by Gemma Halliday Publishing.
Main character Jamie Winters, first executive assistant at the personal injury law firm of Parker, Dennis, in southern New Jersey, finds herself tracking down clues to solve another murder mystery when Kay Culverson, a low-budget cable talk show host, is found dead in her office. Winters' boss, Howard Dennis, is suspected of the foul play as a result of a falling out with Culverson, who was a client.
Motion for Madness also brings back to its pages Winters' handsome landlord, Curt, and his feisty teenaged niece Maizy to help with the search for answers. Winters, however, soon finds herself dealing with a whole cast of suspects, including a shady agent, a group of anti-government geeks, a light-fingered ex-con, and a mysterious hit man for hire named Z.
Motion for Murder, Nasuti's first mystery novel released in 2014, introduces readers to Winters in a story laced with humor, wit, a dose of romance, and a murder. Nasuti's second novel, Motion for Malice, released in 2015, has Winters working to solve the murder of Dorcas Beeber, a psychic medium who was found dead from an apparent blow to the head by her own crystal ball.
"I love writing the books, and I'll keep writing them as long as people want to read them, and I'm lucky enough to continue getting contracts from the publisher," said Nasuti.
"There are definitely plans for more books in the Motion series, plus collaboration is on the way in 2016, with the potential for a stand-alone novel in 2017. I'm truly humbled and thrilled to be able to experience all of this."
Nasuti, who has been a court reporter since 1989, operated as Regional Reporting Inc. until 2005 when she joined VITAC, a full service closed captioning and subtitling company. She currently works as a full-time captioner. Nasuti is a member of Sisters in Crime, a group that promotes the ongoing advancement, recognition, and professional development of women crime writers.
Murder for Madness is currently available in e-book format for Amazon Kindle, Barnes & Noble Nook, iBooks, Kobo, and Smashwords. It is also available in paperback at Amazon.com and Createspace.com, and it will be available soon in other online retailers.