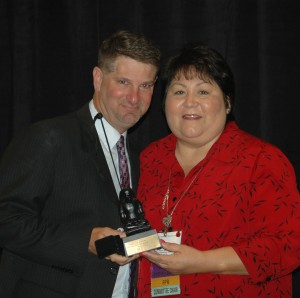 Rick Levy, RPR, a firm owner from Miami, Fla., was recently named recipient of the Emily Mann Distinguished Service Award by the Florida Court Reporters Association (FCRA). The award is FCRA's most prestigious award and recognizes the recipient for his or her exceptional qualifications and experience in the field of shorthand reporting while contributing in a meritorious manner to the welfare of the association. Levy also serves on NCRA's Board of Directors.
Levy, a firm owner since 2003, previously worked as an independent contractor for Mudrick, Witt, Levy & Consor, where he handled reporting assignments, including worker's compensation, personal injury, commercial litigation, and construction defect cases both in depositions and hearings, as well as numerous jury trials.
"Rick has served the board in every position, including as president," wrote FCRA member Holly Kapacinskas, RPR, CRR, a freelance reporter from Debary, Fla., who nominated Levy for the award. "He has always stepped up to help any committee, board member, or FCRA member when asked because, as he says, 'I know how hard it is to get someone to say they'll help, so I'm willing to help.'"
Kapacinskas also noted in her nomination of Levy that he has worked tirelessly in his passion to encourage, mentor, promote, and sponsor students. She said that Levy also actively gives presentations at court reporting schools, bar association meetings, and to law school students.
"To be selected by one's own peers to be awarded my state association's highest award is the ultimate honor and one I will cherish forever," Levy said.
"Being chosen to receive the Emily Mann Distinguished Service Award this year is very humbling as I hold the past recipients of the award in the highest esteem and am honored to now be among them. To be recognized by your state association for all your time, hard work, and true dedication is very appreciated and validates the many hours I have given to FCRA over the many years," he added.
At the national level, Levy has also served on NCRA's Nominating and Elections committees, the Freelance Community of Interest, the New Markets Task Force, and as Chair of the Firm Owners Executive Conference.
"Rick, in his quiet manner, is always encouraging and promoting reporters and the court reporting profession and has contributed greatly to the welfare of FCRA over a sustained period of time, which is what this award is about," Kapacinskas also wrote in her nomination of Levy.
The FCRA Distinguished Service Award is named in honor of the late Emily L. Mann, a longtime member of the association. During her career as a court reporter, Mann also led presentations at NCRA events, taught court reporting to students for more than 40 years, and authored a number of textbooks about court reporting. She passed away in 1999 at the age of 88.