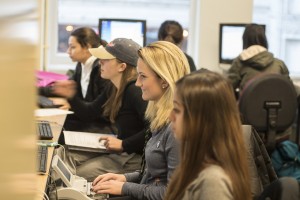 Senior leadership, students, and faculty from the court reporting program at MacCormac College, Chicago, Ill., are hosting an open reunion/reception for alumni and professionals attending the 2016 NCRA Convention & Expo, taking place Aug. 4-7 at the Hilton Chicago.
This evening of celebration and appreciation will take place Fri., Aug. 5 from 6-8 p.m. at the college's campus located in the heart of historic downtown Chicago at 29 E. Madison St. – minutes from the convention site. Students from the college's court reporting program will be on hand to help lead walking tour groups to the school from the Hilton Chicago for the reception.
MacCormac College is the premier two-year, private, non-profit institution in the State of Illinois, approved by the National Court Reporters Association and accredited by the Higher Learning Commission. Founded in 1904, MacCormac is home to the oldest court reporting school in the nation.
In addition to its associate degree program in court reporting, MacCormac College also offers continuing education programs, such as CART and captioning. The continuing education programs were specifically designed for working reporters who are interested in boosting earning potential, bolstering credentials, and growing their career. The entire program taught by accomplished, widely recognized faculty contains three modules, each held on Saturdays to accommodate a full-time work schedule.
To RSVP and for more information about "A Toast to Court Reporting" reception, contact Jenny Dick at jdick@maccormac.edu, or visit the MacCormac College booth in the convention Expo Hall.
For more information or questions about MacCormac's continuing education program, contact Peg Dorchack at mskalski@maccormac.edu.