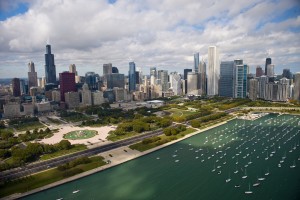 Don't miss the chance to save on registration and hotel fees for the 2016 NCRA Convention & Expo being held in Chicago, Ill., Aug. 4-7, at the Chicago Hilton. Act before July 9 to take advantage of regular registration costs. After this deadline, late fees as high as $150 will be added to entire registration package selections until registration closes on July 29. Increases will include $25 for students, $125 for NCRA members, and $150 for nonmembers. Save an additional $50 per night by booking your hotel reservations under NCRA's discount rate by July 12.
The 2016 NCRA Convention & Expo will offer attendees four days of top-notch educational sessions, specialized workshops, valuable networking opportunities, and the chance to celebrate the court reporting and captioning profession and its many heroes.
Professional speaker and humorist John Wagner will address the topic of "Pride in the Profession" when he takes the stage as the keynote presenter during the event's Premier Session. Wagner, who has helped thousands across the country laugh and learn through the use of humor, has presented more than 500 professional programs to clients that have included the American School Counselor Association, BFGoodrich, Blue Cross Blue Shield, General Electric Co., Honda Motor Co., IBM, the IRS, Toyota, and others.
In addition to the keynote presentation, the 2016 NCRA Convention & Expo also features an array of sessions geared to this year's theme of members being the architects of their future. There will be special sessions and presentations specifically for students and educators and, as always, a vendor-packed Expo Hall and numerous networking opportunities. Convention is also a great place to earn a new credential through the Certified Realtime Captioner Workshop, the Certified Legal Video Specialist Seminar, the Certified Realtime Reporter Boot Camp, the Certified Reporting Instructor Orientation, and the Realtime Administrator Systems Workshop.
Among the many networking sessions on the schedule for this year's Convention & Expo are the "Only New Once" and the Opening Receptions on Aug. 4, the CART and Captioning and Legal Videographer Receptions on Aug. 5, and scheduled coffee breaks with vendors throughout the convention. Other events include the Awards Luncheon on Aug. 6 followed by The Places You'll Go Gala that evening.
Concurrent sessions on the schedule will also offer sessions that explore the latest trends and issues following realtime, judicial, business, and vendor tracks. Attendees taking part in the realtime track, for example, will learn about the latest in new and upcoming captioning legislation and regulations, ethics, online testing, how to create a successful future, and more.
Plan to come early and cheer on colleagues registered to compete in NCRA's National Speed and Realtime contests on Aug. 3 and 4, respectively. Make plans to stay late as well and help mark National Purple Heart Day on Aug. 7, by volunteering to participate in a special Veterans History Project being hosted by the National Court Reporters Foundation in conjunction with local chapters of the Military Order of the Purple Heart.
For more information, to see the schedule at a glance, or to register for the 2016 NCRA Convention & Expo, visit NCRA.org/Convention. For more information about the National Purple Heart event, contact NCRF Manager April Weiner at aweiner@ncra.org.
Stay up to date with every piece of convention news.