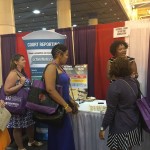 This year marked the third consecutive time NCRA has exhibited at the American School Counselors Association's conference and the first year the event drew a record number of attendees. Cynthia Bruce Andrews, Director of Professional Development Programs for NCRA, represented the Association at the ASCA event, which also drew a record 154 exhibitors when it was held July 9-12 in New Orleans, La.
"The ASCA conference was well attended this year with almost 3,000 people present," said Andrews. "I had more than 500 people come to my table, and I brought back more than 280 contacts," she said. "Schools are really interested in us attending their career days. Visitors to the NCRA booth clearly recognized what hidden professional gems court reporting and captioning are."
ASCA supports school counselors' efforts to help students focus on academic, career, and social/emotional development so they can achieve success in school and are prepared to lead fulfilling lives as responsible members of society. The organization provides professional development, publications, and other resources, as well as advocacy to professional school counselors around the globe.