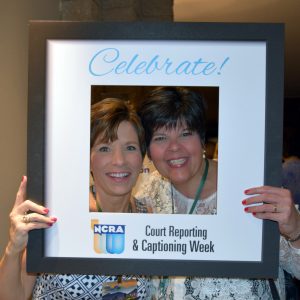 2017 Court Reporting & Captioning Week participation by states and court reporting schools exceeded the involvement reported during the 2016 event.
In addition to the national proclamation issued by U.S. Rep. Ron Kind of Wisconsin, a total of 17 states reported official proclamations compared to 11 the previous year. In addition, six court reporting programs reported holding one or more activities throughout the official week compared to five during the 2016 celebration.
"It was heartening to hear and read about all the ways our great profession was celebrated across the country," said NCRA President Tiva Wood, RDR, CMRS, a freelance court reporter from Mechanicsburg, Pa. "This week of recognition expands each year, and I want to thank everyone who participated in this most recent celebration. I also would encourage everyone to continue to celebrate this wonderful career choice throughout the year by letting everyone know how rewarding it is," she added.
Wood kicked off Court Reporting & Captioning Week as a guest on Stenographers World Radio where host Al Betz interviewed her about the future of the profession and the importance of the weeklong event sponsored by NCRA to raise awareness about the court reporting and captioning professions.
She also participated in a social media effort held during the 2017 NCRA Firm Owners Executive Conference, Feb. 12-14, in Tucson, Ariz. Attendees at the event were encouraged to have their photo snapped inside a specially designed frame and post it to Facebook and other social media outlets.
Wood closed out the weeklong event by participating in the first National Court Reporters Foundation Hard-of-Hearing Heroes Veterans History Project. The event used captioners to aid in interviews with several veterans who are deaf and hard of hearing, including two who served in World War II. The event was held at the Hearing Loss Association of America's headquarters in Bethesda, Md., and drew Washington, D.C.-area media coverage.
In Ohio, students and faculty at Cuyahoga Community College (Tri-C), Cuyahoga, Ohio, hosted an information table in the main areas of the campus that featured a prize wheel students from all majors could spin. Prizes ranged from a pen to a pad folio and the opportunity to hear more about a rewarding career in court reporting or captioning.
Other activities sponsored by Tri-C included asking court reporting program students to provide the names of people they thought would be a good fit for the profession in exchange for being entered into a drawing. A Coffee with Court Reporters event was also held for current students featuring coffee and NCRA-decorated cookies provided by the program's Court Reporting and Captioning Club. Among the guest speakers were NCRA member Michelle Harper, RPR, a freelance reporter from Brunswick, Ohio; a captioner; an attorney; Tri-C's western campus president; an associate dean; and NCRA Vice President Sue Terry, RPR, CRR, a freelance reporter from Springfield, Ohio.
Brown College of Court Reporting in Atlanta, Ga., also celebrated the week by hosting a series of speakers throughout the week. Among those were Caryn Broome, a CART captioner; Maxyne Bursky, RPR, CRR, a freelance reporter; and Heidi Thomas, RDR, CRR, CRC, a CART captioner. The speakers addressed such issues as what to expect from an externship and what it takes to become a successful CART captioner.
NCRA member Candice Sanders, RPR, also led two interactive workshops that focused on transitioning from a graduate to a working reporter.
Read the complete list of events that occurred at the national, state, and local level during 2017 Court Reporting & Captioning Week here.