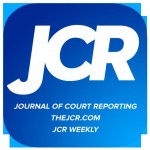 The court reporting program at Madison Area Technical College, Madison, Wis., was recently represented at an annual Celebration of Student Engagement event held at the state's capitol building. Students from the program, as well as faculty, were on hand to help educate lawmakers and their aides about the profession.
"Madison Area Technical College's court reporting program was honored to be chosen to represent the college at the Celebration of Student Engagement event," said Lisa Hubacher, RPR, CRI, program director. "Each of the 16 colleges in the Wisconsin Technical College System is invited to showcase one of its programs at this event. Three of our program students — Jessica Bolanos, Abby Friesen, and Brant Larson — spent the day educating lawmakers and other attendees about the program and career areas, as well as playing 'Stump the Stenographer,' one of our favorite interactive games."
Students also played "You Text, I'll Write" with event attendees.