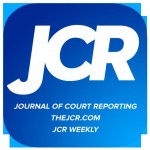 In January, Lori Rapozo, RPR, CRI, an instructor at Green River Community College in Auburn, Wash., brought several court reporting students to lead mock depositions during the Essential Lawyering Skills course at the Seattle University Law School. The mock depositions included swearing in the deponent and handling exhibits.
Rapozo presented the Legal Education seminar Making the Record to the law students using the booklet provided by the National Court Reporters Foundation.
NCRA member Ron Cook, RDR, CRR, CRC, a freelancer in Seattle, also provided a realtime demonstration for the law students.