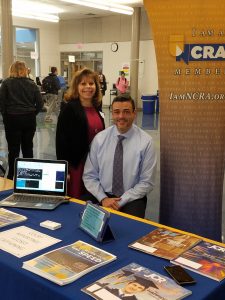 Armed with machines, flyers, and posters, NCRA members Darlene Parker, FAPR, RPR, and Steve Clark, CRC, presented for the second year in a row at a career fair held at South Lakes High School in Reston, Va., on March 23. Parker, a broadcast captioner, is the director of steno captioning and realtime relations for the National Captioning Institute in Chantilly, Va., and Clark, a CART captioner, is the manager of Home Team Captions in Washington, D.C.
Approximately 600 sophomores at the school wandered through the career fair held in the cafeteria, visiting tables that included representatives from an array of professions, including law enforcement, health, education, and veterinary care. Students who stopped by the court reporting and captioning table often were three deep, captivated by Clark's realtime demonstration.
"I was happy to have Steve Clark join me again this year to provide realtime for the event at South Lakes High School. The kids were fascinated watching his realtime," said Parker. "There was one kid who tested Steve by mentioning every fruit he could think of. We were waiting for the standard test of supercalifragilisticexpialidocious, but it never came."
The duo first participated in the school's career day in 2016. Parker, whose son was a junior at the time there, read about the event and contacted the faculty who were organizing it. Both Parker and Clark said participating in the event again this year was just as rewarding as the last time.
"The Career Day at South Lakes High School was an excellent opportunity to showcase court reporting, broadcast captioning, and CART captioning. The fast-paced event kept students moving from table to table, almost like career speed dating," said Clark.
"This year we had a steady flow of students who listened to Darlene Parker's explanation of what a court reporter and captioner does while I wrote what she said. Students were amazed to see their words appearing on tablets within a second of being spoken," he added.
Students were also excited to learn that Clark is the official stadium captioner for the Washington Redskins football team, the Nationals baseball team, the Capitals hockey team, and teams from several area colleges.
Annemarie Roketenetz, NCRA's Assistant Director of Communications, also attended the event. Roketenetz would "snag" the kids, especially those wearing sports-related clothing, and ask them if they liked sports.
"Then I would explain how terrific of a profession court reporting and captioning is and how the machine worked. I enumerated that it can be done with just an associate's degree, the many different types of venues one can work in, the flexibility, and the potential for an excellent income," Parker explained.
Parker reached out to NCRA again this year for materials. She also consulted the Association's website for helpful handouts, including fun facts. She said it's important to point out to students how the machine works and the many different venues court reporters and captioners can work in. She also suggests highlighting the need for people to enter the field, as some professionals are reaching retirement age. She also shares with students what CART captioners do, mentioning that most positions offer a flexible schedule and the ability to work from home. She tells students that it is a great profession for those who like words and technology, and that it's two to three years of schooling for an excellent salary and a rewarding career.
Parker is currently making plans to highlight the profession next month at the middle school located next to South Lakes High School where she and other volunteers will present for 35 minutes to two separate classes.
"I urge everyone to reach out to your local high schools and school districts. It is fun to participate in these events to promote our great profession to these young people, who are our future," she said.
"These career day events are incredibly important and rewarding. Every NCRA member should get out into the community and share his or her talents in order to draw more students into this field," added Clark.
NCRA members who are interested in presenting at career fairs have a variety of resources available from the Association. The Resource Center at DiscoverSteno.com has fliers, posters, a PowerPoint presentation, and a promotional video (both generic and customizable for a specific program, etc.).
Members may also find value in the resources at NCRA.org/Awareness.These materials are focused on Court Reporting & Captioning Week, but members can adapt them for other promotional purposes or to use them to find ideas for highlighting court reporting and captioning.
Members who do participate in career fairs or any other promotional activities are encouraged to contact Roketenetz at aroketenetz@ncra.org for possible inclusion in the JCR or JCR Weekly. Keep in mind that any photos will likely need to hide any identifying features of minors, especially faces.