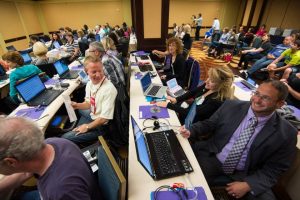 Whether you are a speed and accuracy junkie or just someone who loves to watch your peers perform at their highest possible levels, make plans to compete in or attend the 2017 National Speed and Realtime Contests being held at the NCRA Convention & Expo happening in Las Vegas, Nev.
Registration for both contests is at the halfway mark, and the deadline is drawing near. The Speed Contest is set to take place on Wednesday, Aug. 9, with the Realtime Contest happening on Thursday, Aug. 10. Both events will take place at the NCRA Convention & Expo host hotel Planet Hollywood Resort & Casino.
NCRA's National Speed Contest first debuted at the 1909 convention in Lake George, N.Y., pitting Pitman and Gregg pen writers against one another. Today's contestants continue to fight for top speeds and accuracy rates but on shorthand machines. Contestants face three, five-minute tests of live dictation that includes literary at 220 wpm, legal opinion at 230 wpm, and testimony at 280 wpm. Once done, contestants have 90 minutes to transcribe what they wrote. The transcripts are then graded for accuracy and combined with speed times to determine who makes it to the winner's circle.
With the advent of realtime software, NCRA introduced the National Realtime Contest in 1999 to showcase members' instantaneous speech-to-text skills. Just as challenging as the Speed Contest, contestants face two five-minute dictations: one of straight matter at 200 wpm and another of two-voice dictation at 225 wpm. Tests are submitted for grading immediately upon completion of the contests, and contestants must qualify with an accuracy rate of 95 percent or better to have a shot at the top spots.
Both contests offer challenging and difficult tests of skill and endurance. And each year, both veterans and first-timers show up to participate, as do those who just want to observe and be inspired. The JCR Weekly reached out to two members, a veteran participant and an observer, to find out more about what draws court reporters and captioners to the contests.
According to Ed Varallo, FAPR, RMR, CRR, a freelance reporter from Boston, Mass., competing is a way for him to challenge himself. Varallo won the speed contest in 1974, in 1975 (where he scored a perfect score in the 280 wpm testimony leg), and in 1976, and then returned to win again in 1986, in 1996, and in 2006 after having retired from competing for 10 years.
"The men and women who put their skills on the line and enter the National Speed Contest or Realtime Contest are setting an example for all of us. They're showing us what the most skillful practitioners of our art can do. And I find that inspiring. Makes me want to be the best reporter I can be," Varallo said.
"If you don't enter the contest, come watch it. You'll be inspired. It's exciting to watch fingers fly as the words pour forth at astronomical speeds! I've entered state and national contests and won six national contests. What motivates me is always the same thing: I want to challenge myself the way these other reporters are challenging themselves. Interestingly, when you compete, you're competing with yourself. It doesn't feel like you're competing with the other contestants in the room," he said.
"Sure, each of us is scored and ranked against all other contestants, but for me, I was happy when I performed well. If I won, well, that's great, and I'd like to win again. But if I performed well, got a good score, and somebody beat me, I might be disappointed — but I wouldn't feel defeated because I knew I gave it my best shot. When you compete in a high-speed contest, and transcribe your paper, and especially if you're happy with your performance, it's exhilarating! It makes you want to do it again! And, of course, it keeps your writing skills in tip-top shape so that you can be the best reporter you're capable of, every day. And that's what a true professional aims to do every day," he added.
Mike Hensley, RPR, is a freelance court reporter from Evanston, Ill., and a member of NCRA's New Professionals Committee. At the 2016 NCRA Convention & Expo in Chicago, Ill., Hensley had the opportunity to watch the Realtime Contest. He said watching it gave him the chance to be exposed to new approaches and methods to attain high-speed writing while watching the best of the best in the industry live in action.
"I was absolutely thrilled and energized just to be in the room, even as a spectator. I was inspired to set goals for myself to be able to join in the fun at my earliest opportunity. I think there's always something new to observe from the contestants. Every competition is different. Just like our jobs, each session brings a new experience. The competition is so tight; it's never certain who exactly is going to win top honors," Hensley said.
"Before observing the contest, it seemed like such a lofty goal. After observing it in person, I gained the feeling that speed contests were definitely something that I could work towards in my personal development. I haven't competed yet. Right now, I'm working on attaining the necessary certifications in order to be eligible," he said.
"Several of my mentors are speed contestants. And there are many other contestants who graciously encourage and inspire others to be the best they can be in the profession. Competition in this arena is fun! The participants eagerly welcome new participants," he added.
According to Hensley, keeping an eye on speed contests offers many ideas for becoming better as a reporter. Even if you don't compete, you can learn ways to write shorter, faster, and cleaner, he noted. "You don't have to be able to write at competition speeds in order to make your own skill set stronger and sharper. Seeing the contest live helps to demystify perceptions about the event and make it more accessible. If you have even the slightest interest, I highly recommend you watch the next contest that you can," said Hensley.
He also encourages students to make the effort to watch the contests as spectators and use the experience as another opportunity to learn from those who are experienced in the profession.
"The Speed Contest participants are arguably some of the best in the field. Who wouldn't want to watch the best of the best? Speed contests are also extremely motivating for those who have the competitive spirit. It's the same as watching Olympic athletes. Not only do you see the results of hard work, but you also get an idea of the training and dedication it takes to reach that level of excellence."
Are you up for the challenge? Register now to participate in the Speed or Realtime Contests when you register for the 2017 NCRA Convention and Expo at NCRA.org/convention.
For more inspiration, be sure to read "Five minutes with Speed Champ Jeff Weigl" and "Five minutes with Realtime Champ Dee Boenau." For those competing or considering to compete, be sure to read "Top 11 tips from Speed and Realtime Contests graders," written by Russell Page and Pat Miller, CRI, CPE, veteran members of NCRA's Contest Committee and long-term contest graders.
Don't miss all the perks of early registration. Book a room at the Planet Hollywood Resort & Casino for the opportunity to win — NCRA is offering prizes to those staying in the discounted room block at Planet Hollywood, including a refund of your entire convention registration and a Kindle Fire tablet to those who additionally download the app. Special room rates disappear July 4.