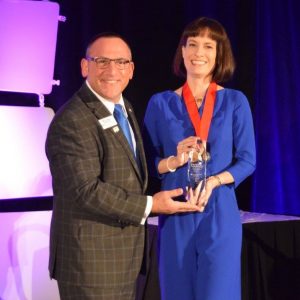 The JCR reached out to Dee Boenau, RDR, CRR, CRC, a broadcast captioner in Sarasota, Fla., about her Realtime Contest win, the importance of realtime, practice tips, and using the spotlight to promote the profession.
What appealed to you about competing in the speed and realtime contests?
I've always competed just as a way to see how my skills have improved. It's fun and exciting to see how the changes I have made to my theory over the years have increased my speed and accuracy.
 Do you have a preference on which one you would prefer to win?
I like to win the Realtime Contest because realtime writing is what I do, and I believe realtime translation is the lifeblood of court reporting and captioning. However, I would not mind adding the prestigious title of Speed Contest Champion to my achievements and having my name added to the historical list of greats in our profession.
 How do you find the two contests different?
I write both contests in the mind-set of realtime. There really is no difference to me other than the faster speed and the opportunity for editing in the Speed Contest. Nerves can be devastating, though, in the Realtime Contest. If the nerves creep in during the Speed Contest, I know I have a chance to edit it. I guess I am a little harder on myself just before the Realtime Contest because of nerves.
Have you been practicing for the upcoming contests?
I do practice close to the time of the contests. I simply don't have the time to practice year-round. I prefer to actively use my skills in the real world and to further enhance my ability to make a living. Whether I am reporting or captioning, I always review my work. I can't stress enough to captioners the importance of reading one's work and looking up what one missed. Over the years, too, practice would be boring to me because it was always the same dictation tapes. Now there are new programs on the market, like ev360 Ultimate, that take practicing to a whole different level and make it fun, too. The last couple of years I've been practicing more because of the program.
What advice would you have for a person who has never been in a speed contest before? How can they get started?
Just do it. Sign up and jump right in. The contests may humble you and inspire you at the same time. You could be the next Jeffrey Weigl, RMR, CRR, CRC, or Julianne LaBadia,  RDR, CRR, CRC.
You've received quite a lot of coverage based on your wins in the past few years. What has that been like? Do you have any advice for other reporters or captioners who find themselves in the limelight?
When I found myself in the limelight, I spoke with passion. I love writing on the steno machine; it is my favorite piece of technology. Without the steno machine, I could not do my job as a reporter making a record and as a captioner providing communication accessibility to thousands of people. You can't go wrong talking about what you love because it all comes so naturally. When I first won the Realtime Contest, I was thrilled with the machine I was using and enjoyed talking about it and the technology behind it. When a person speaks with such passion about his or her profession and the advancing technology, it can only inspire others to inquire about court reporting or captioning.
Is there any advice you can give to other NCRA members on how each of us can be an advocate for our profession?
Be the best you can be. Stand up for what is right. Keep the professional image alive.
Any questions we missed or should have asked?
I want to thank NCRA and the Contests Committee for continuing to support the contests. It is a huge undertaking and a sacrifice of convention time for the committee members. I've heard that they are often grading papers when people are returning from late-night festivities. Admittedly, the contests are a large part of the reason why I've attended the convention 17 years in a row. Yes, I learn from the seminars, but the contests give the convention the wow factor. Thank you, NCRA, past sponsors, and any future sponsors!
Read our interview with Speed Champ Jeff Weigl.