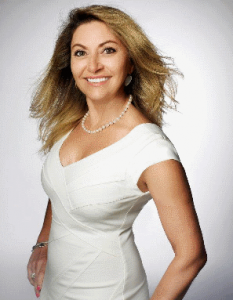 NCRA member Rena Nathanail, a broadcast captioner and owner of National Captioning Canada, Calgary, Alberta, was recently honored by her alma mater, the Northern Alberta Institute of Technology (NAIT), with its Alumni Award of Distinction. She was recognized in May for her outstanding career as an entrepreneur and her support of the community.
Nathanail's firm is the largest Canadian-based provider of live closed captioning. With more than 100 employees working from home studios across Canada, the company provides 1,800 hours of closed captioning and realtime transcription services a week for news, sports, political commentary, entertainment, and government proceedings. Their clients include major broadcasters across the country like Rogers, Bell, Shaw and the Canadian Broadcasting Corporation, as well as the Alberta Legislature and the House of Commons.
According to the press release announcement, when Nathanail started working in Toronto in the 1980s, the field of closed captioning was a fledgling industry. The Canadian Radio-television and Telecommunications Commission had just begun to mandate that broadcast stations provide closed captioning for a certain amount of hours of programming per day as a condition of license. Nathanail, who graduated from NAIT's court reporting program in 1984, was one of only two realtime closed captioners in Canada working for the sole not-for-profit captioning provider; it was too good of an opportunity to pass up.
"I started the business in 1988, captioned full time at all hours of the day and night until 2001," said Nathanail. "I hung up my captioning gloves then and focused solely on building the e-business. We have more than 100 employees stationed from Australia to France and everywhere in between," she added.
Nathanail said she learned she was being nominated for the award by faculty of NAIT's court reporting program, who she and her firm work closely with.
"We are on the NAIT advisory board, and we were instrumental in having the program changed to the broadcast captioning and court reporting program. We have our own captioners teaching continuing education using their knowledge of closed captioning and work with NAIT and other advocacy groups to set a standard and maintain the quality of closed captioning in Canada," she said.
"I was honored to have been chosen, but the most important thing was it allowed me to recognize and give credit to my employees that helped build the business and provide such a valuable service to the hard-of-hearing community in Canada," Nathanail added.