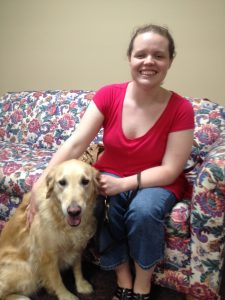 Long nights of practice and endless speed tests are familiar challenges for court reporting students. But Kayde Rieken, a student at the College of Court Reporting in Valparaiso, Ind., has experienced one that is unique. She was the first student to take the RPR Written Knowledge Test (WKT) in Braille. With her new career, she hopes to make a difference in the lives of other people who are disabled.
What made you decide to go into court reporting?
I have always been an avid reader, and I enjoy expanding my vocabulary. I am also fascinated by technology and the impact it can have on the lives of disabled people such as myself. When I found out that court reporting was a profession that combined these two interests, I was sure I had found where I belonged.
Can you talk a little about your background? Did you start the program straight out of high school or did you have another career first?
I was about three-quarters through a bachelor's degree in Spanish translation when I discovered that it just didn't feel right for me anymore. Court reporting was one of the things I listed as an interest when I was debating career choices in high school, so I decided to do more research on it. It was a very hard and frightening decision, but I chose not to finish the degree I had begun and start my court reporting education. I have, of course, not regretted it for a moment.
Have you had any special accommodations for classes or testing throughout your court reporting program?
I have not needed many accommodations. Court reporting students are often told during the first few weeks of theory not to watch their hands as they write. I use an ordinary Windows laptop with a text-to-speech screen reader that converts print into synthetic speech. Another essential component of my setup is an electronic Braille display that works in conjunction with my screen reader to convert print into Braille output. My steno machine has a basic screen-reading program on it, although I only use this when changing settings on the machine itself.
There were a few things in my CAT software class I was not able to do, such as use the autobrief feature because I am not able to see suggestions pop up on the screen as I write. However, my instructor provided me with alternative assignments that we agreed would be beneficial for me to do during that week.
What kinds of challenges, if any, have you faced during your court reporting program?
My challenges were mainly what everyone else faces — being stuck at a speed for a long time or that stroke that you can never seem to stop hesitating on. I never felt that my blindness itself presented a challenge in court reporting, as I gain most of my knowledge of the environment through listening anyway. In past college experiences, I sometimes had problems with professors not believing in my abilities; but all of my teachers at the College of Court Reporting have held me to the same high standards to which they hold all their other students.
Describe your experience taking the WKT.
I was initially a bit apprehensive because I wasn't sure what accommodations could be made. I was worried that the only thing NCRA would be able to provide was someone to read the questions to me. If you stop and imagine only listening to some of those complicated punctuation questions without a "visual" medium in front of you, I think you can see that would not work. However, the people in charge of testing at NCRA could, and did, provide me with a Braille copy of the WKT. I cannot express how grateful I was for this. Then, with that accommodation taken care of, I had a somewhat typical test-taking process. I read the questions in Braille and had a recorder there to mark down my answers in print for me. I went over the questions twice to make sure everything was marked correctly.
Which tests do you plan to take next?
I plan to take the jury charge portion of my RPR next, as I have passed my two online tests and my jury mentor evaluation.
What types of challenges do you anticipate in your career ahead?
I am the kind of person who tries to meet challenges as they come. I can anticipate that the marking of exhibits could be something I may need assistance with, but I don't see that as being much of a problem. I am glad to know, however, that I have several mentors, blind and sighted, within this profession to answer any questions I may have.
Do you have any advice for people who are blind or visually impaired who are considering a career in court reporting?
As I mentioned earlier, I think Braille is a very important component to this profession for a blind person; so make sure your Braille skills are solid. Also — and this applies to any student — it is important to do your research and find places where you can network and foster mentoring relationships. I had the opportunity to go to the NCRA Convention & Expo in Chicago last year, and it was one of the most overwhelming and exciting experiences of my life; so don't be afraid to embrace experiences that might be a little scary for you. They are nearly always worth it.