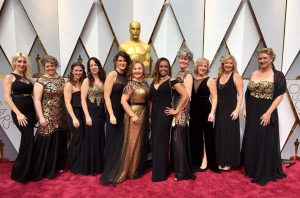 By Megan Rogers
In 1996, Tera Walker was a former court reporting student working as a flight attendant for United Airlines. She'd just launched a reporting company called Steno Scripts and had sent a proposal "to every awards show," she said. The Oscars contacted her because they didn't understand what exactly she was proposing to do.
Walker grabbed a couple of court reporting students and drove to Beverly Hills to demonstrate. They wrote about seven to ten minutes of The Usual Suspects with Kevin Spacey, cleaned it up, and printed it out. Walker recounted with a laugh that the transcript was still pretty messy, but the folks at the Oscars didn't read it — they were impressed with the quick turnaround.
At the time, individual journalists in the backstage pressroom would have tape recorders during the interviews. The result is easy to guess: The celebrities were often misquoted in the next day's newspapers, and their publicists weren't thrilled. Now, Walker and her team produce one verbatim transcript that gets distributed from the Academy of Motion Picture Arts and Sciences (AMPAS) to the media.
"We write the questions and answers between the International Press and the Oscar winners for AMPAS," explained Erika Sjoquist, RPR, CRR, who typically works as a freelancer in Camarillo, Calif. "After our product is finished, AMPAS puts it up on its website, and members of the International Press are able to get copies of the interviews as well."
Getting called to work the Oscars is a good example of "it's who you know." Both Sjoquist and Diane Rugh, RMR, CRR, a freelancer in Snohomish, Wash., got the job via Jeff Cobb. "He knew I had moved to California, but wasn't sure where," said Sjoquist. "Jeff was working with Tera Walker at that time, and the team needed a reporter to fill one of the spots." He reached out to her asking how close she was to Hollywood.
Rugh had a similar story. "I worked for a freelance firm in Seattle, and one of the reporter owners, Cheryl Mangio, RMR, CRR, CMRS, knew I loved movies. She knew the Oscars team that Jeff Cobb worked for was looking for a reporter, so she suggested me," she said, adding, "I knew I had been given a golden opportunity." Rugh recommended Carla Wallat, RPR, CRR, a freelancer in Federal Way, Wash. "Diane suggested that I would be a good fit to work with the team," said Wallat. "Ultimately, Tera Walker asked me to join."
The team is a mixture of veterans and newbies, but after a couple decades, there's a definite system. "After working the Awards for as many years as I have, the best part about it is being with the team," said Sjoquist. "Our team is like family that I get excited about seeing and catching up with every year." Team members travel from California, Washington, North Carolina, and Virginia. "We've turned Oscar Sunday into an Oscar weekend, usually beginning Friday evening, where we make sure we have time to visit, socialize, and have fun with some crazy activity before work on Sunday," said Sjoquist.
The team is comprised of several reporters, scopists, notetakers, and a runner (usually a court reporting student), and they work with the AMPAS librarians. "The Academy librarians are incredibly knowledgeable about every category nominated, including past and future movies that the nominees have or are working on," said Wallat. Wallat worked as a notetaker in 2009 and then as a scopist for the team. "The notetaker is tasked with jotting down notes, such as the order of the speakers when they enter the room, spellings that need to be researched. Everything is at such a quick pace that the reporter does not have much time before the next winner may enter the room," said Wallat. The scopists "work closely with the Academy librarians and research staff to finalize the interviews."
Wallat said: "In my everyday work, I use a scopist on a regular basis, and after scoping for the Oscars, it has made me realize how valuable my scopist is. It challenges me to write cleaner so it makes her job easier, which in turn produces a quicker turnaround time on the transcript."
"The three reporters tag team, so I get every third interview that comes up," explained Rugh, which means, of course, that the reporters have to be ready for anything. "There might be two, three, five, or more people who show up for the interview of, say, the winner of Visual Effects, Sound Editing, Costume Design, and Motion Picture, and you need to know by the time they walk up on the stage, usually about three seconds, who each of them are and get their designations down," said Sjoquist. "The notetakers are very helpful in this regard. They match names to faces so that we can designate who is talking."
Jennifer Smith, RMR, CRR, CRC, an official in Mukilteo, Wash., found some similarities between writing the Oscars and both her work in the courthouse and her previous experience in captioning. "This assignment was more similar to closed captioning in the sense that you can't always see the questioner, only the Oscar winner who is answering the questions. In court, you see everyone who is speaking. Additionally, as in closed captioning, if you can't hear something or don't understand something, you cannot interrupt as you could in a courtroom. It's similar to court in that it's Q&A and verbatim."
"The writers have one shot to get all that they can from the interview. It's not like deposition or court work where you can interrupt the talent and say, 'Excuse me. Will you please slow down?' or 'What was that? I didn't catch that word.' Oh, no. You're hoping to be able to understand and write accents from all over the world: French, Japanese, Indian, Spanish, Australian, English, Arabic, and Farsi, just to name a few," said Sjoquist. "The winners of the prestigious Oscars are excited. Can you blame them? And so, they often speak extremely fast. They're expressing gratitude to many people, whose names you hope to find the spellings of because you certainly can't ask them."
Rugh also added that the Oscars are different because "at a deposition, I'm not usually starstruck by the deponent whose acting has moved me to tears or that they are so stunningly beautiful or handsome I can't do anything but stare or have a stupid grin on my face!"
Preparation for an assignment like this begins with ensuring that equipment is in working order and gathering information. "We are required to have the latest update on our software," said Sjoquist.
"I managed to watch more movies this year than ever before, although I only ended up seeing one of the Best Picture nominees! Other than that, I built a dictionary of all the movie titles, nominee names, and then spent a bit more time researching the foreign films," said Smith. "The other reporters, Erika and Diana, helped me prep my dictionary for those the morning of. We sat in our hotel room and found out what we could. Lucky for me, Erika got to report the foreign film interview! Hands down, she had the hardest of the bunch."
"Carol Stone, the head scopist, prepares a list of the nominees every year and makes sure any new team member has the right layouts. Having done this for 11 years, I finally realized I don't need to put every single movie and nominee in my job dictionary because I will only end up using maybe 5 percent of it," said Rugh. "I have usually seen most of the nominated Best Pictures, but some of the things that come up during the interviews, such as names and places and people that the winner has collaborated with over their career, is beyond any prep I could do. That's where our talented and capable scopists come in, with the help of the AMPAS librarians."
"The day prior to the Oscar broadcast, we meet with the Academy personnel to go over the layout of the room, make sure internet connections work, and confirm the reporters' audio and page layouts," said Wallat.
Sjoquist is also on the team that covers the awards for the Screen Actors Guild and the American Federation of Television and Radio Artists (SAG-AFTRA), also a Steno Scripts assignment, which turns into good preparation the month before the Oscars. "The team we have for SAG-AFTRA is much smaller than our Oscars team: three versus 12. To me, it's not as stressful as working the Academy Awards," said Sjoquist. "We write the acceptance speeches for SAG-AFTRA. Security is lighter there, too, so we can walk freely among the talent for the most part, and then SAG-AFTRA has a party at the venue for its employees that we go to after the show."
Perhaps the most fun part of prep work? "Find a dress and shoes!" said Wallat.
"We have so much fun when we play together, but we all individually take very seriously the work portion, which lasts on Oscar Sunday from 4 p.m. to after midnight," explained Rugh. "I would be remiss if I didn't mention that the three reporters are usually done writing the interviews around 10 p.m., but the scopists are still working for up to three to four hours after the live show has ended."
"The winners may not arrive to the press room until well after the broadcast is over. This puts a lot of pressure on our team because the press is anxiously awaiting the transcripts," said Wallat. "We have two hours after the broadcast is over to complete the transcripts."
Despite the fast-talkers, the long hours, and the pressure to deliver, working the Oscars provides memorable moments unlike any other assignment.
"The writers and notetakers sit in the front row, about 3 feet from the stage where the winners are standing. We are so close to the winners that one year, one winner, Jared Leto, actually handed me his Oscar so that I would confirm how heavy Oscar really is," said Sjoquist.
"We loved Jared Leto; he just stole our hearts. And it wasn't just because he gave Erika the statute to hold," remembered Rugh. "She was trying to write, by the way, and I was too enthralled to try and take over writing for her! He was just so magnetic. And those eyes!"
"My most challenging year was 2011 when The King's Speech ruled the night with Best Picture, Best Actor, and Best Director. The interviewees had heavy accents, which made it take longer to finalize the transcripts," said Wallat. "The year Sandra Bullock won for Best Actress, she looked stunning in her gorgeous form-fitting gold gown, but she said she wanted to relax and eat a burger."
"My most memorable Oscar moment was reporting the interview of Viola Davis. First, from a reporting perspective, she was a dream to write," said Smith. "I was so completely mesmerized by her grace and class that I literally forgot I was writing! There was a huge sense of relief when I looked at my realtime screen and realized I hadn't stopped."
"One year we all wore red dresses, and Meryl Streep, as she was walking offstage after her interview, said we all looked beautiful and reached out and took Tera's hand," said Rugh. "That was thrilling for all of us to even be acknowledged, but especially for Tera!"
Megan Rogers is NCRA's Communications Assurance Specialist. She can be reached at mrogers@ncra.org.