By Debbie Dibble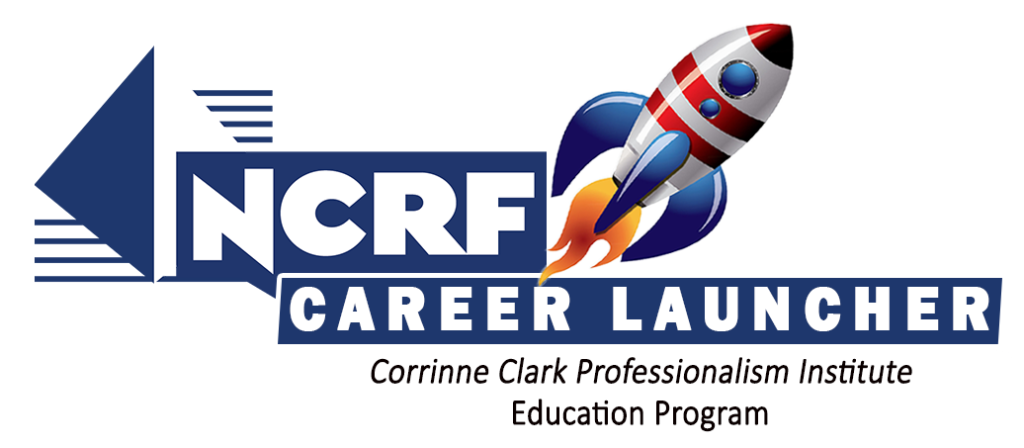 Career Launcher — you've heard about it, you've seen the iconic rocket, but do you really know what it is? This new program is a cutting-edge, innovative virtual internship program that has been developed by the National Court Reporters Foundation Corinne Clark Professionalism Institute, designed from the ground up to jump-start the careers of new professionals and to be a valuable training resource on deposition procedures and transcript preparation for schools and agencies alike.
Whether you're preparing for your first deposition or have been working in the trenches for three years, five years, or more than 20, you can learn something from Career Launcher.
Anyone can participate in this program, whether as a candidate watching the simulated depositions online and preparing transcripts or volunteering as a reviewer or providing valuable online mentorship to new professionals participating in the program. For those of you with decades of invaluable experience, this is the opportunity for you to ensure that your knowledge will be passed on to the next generation of reporters, securing a bright future for this profession that has changed so many of our lives for the better.
Career Launcher is a video-based, online training system consisting of 10 mock deposition modules. Court reporting students, new professionals, or anyone who needs a crash course in the life of a deposition reporter can work through the modules at their own pace. Here is a sneak peek of the modules:
Module 1: Examination Under Oath — "Case of the Missing Garden Tools"
Module 2: Car Wreck (plaintiff medical) — "Who's Right When You're Making a Left"
Module 3: Slip and Fall (personal injury) — "When You 'Bearly' Have a Leg to Stand on"
Module 4: Workers Comp (hearing) — "When the Witness is a Total Wreck"
Module 5:  Divorce — "You'll Really Want to Divorce Yourself from These Proceedings"
Module 6: Employment (interpreted) — "Misinterpreting the Best of Intentions"
Module 7: Corporate Representative — "Don't Count Your Chickens, Brother"
Module 8: International Trade Commission (ITC) Patent — "To Be or Not to Be… On the Record"
Module 9: Business Litigation — "Patent Pending"
Module 10:  Heavy Medical —"What Becomes of the Broken-Hearted"
These 10 modules are extensive simulations of all elements of deposition reporting, from interfacing with the receptionist, meeting the parties, reporting the deposition, all the way through to getting client orders and packing up. Candidates will be exposed to all elements of court reporting in the deposition setting; such as when to arrive, swearing or affirming, where to sit, marking exhibits, going on and off the record, redactions, stipulations, exhibit custody, arguing attorneys, mumbling witnesses, drafts, awkward situations, and so much more.
Why is this program such a great value to our profession? As the employment model for freelance reporters has shifted away from local firms with in-house reporters to a more decentralized, nationwide model, the access to one-on-one mentoring by a peer at the next desk has almost vanished. The Career Launcher team's goal was to create a master class on all the everyday on-the-job elements of depositions, the things they can't teach you in school.
According to Career Launcher team member Mike Miller, FAPR, RDR, CRR, a freelance court reporter and agency owner from Houston, Texas, "As we have interacted with court reporting students during the creation of this program, it has become obvious that this program is long overdue. Many high-speed students and new professionals are completing their educational pursuits without ever dealing with multiple speakers, objections, or colloquy, not to mention never encountering the myriad things that can go wrong on any given day during a deposition. This program exposes them to all these things and more."
There are two major focuses of this program: Overall deposition processes and transcript preparation. Many school curricula require internship hours for graduation, but is 40 hours, the equivalent of five to six depositions, enough time to expose a new reporter to the intricacies with which freelance reporters deal on a daily basis? A reporter may be on the job for five years and never have an interpreted deposition. This program is deposition espresso, distilling decades of on-the-job experiences into short, easy-to-consume mock depos that will give new professionals the jolt their careers need.
The second element is transcript preparation. Some court reporting students aren't exposed to much more than speedbuilding, with some graduating with no more than a rudimentary foundation in transcript preparation or start working before completing a program.
Career Launcher team member Kevin Hunt shared with student beta testers: "You may be the purest writer in the world, you may know every trick possible in your CAT software, but what really determines your reputation as a reporter is your ability to produce an accurate, verbatim, high-quality transcript."
The Career Launcher team knew that real in-the-trenches court reporting students would be the ultimate arbiter of the quality of this program, so they reached out to some high-speed students to beta test all the modules. Here's what some of them had to say:
Brad: What I really liked was … just going through the day‑to‑day routine things that we might not think of, from talking to the receptionist to having people sit where you can hear best. It was stuff like that that I really liked because that's stuff we're going to encounter … you showed from the time you arrived at the lawyer's office to the time you left, until the time the deposition was over, so I thought that was super important and helpful.
Michaela: I really enjoyed doing these. The videos were just beautifully made. Right from the beginning I was like, 'Wow, she wasn't kidding.' You guys did an awesome job! Getting that experience now, I know what to expect. It's just a beautiful program that you guys created, and it's going to help so many reporters be ready for the field.
Erica: The videos were so professional. The audio was clear. You could tell what was happening. It even paused to let you start and end. The reporter at the end would give you tips and tricks and explain the video. All the resources, just so much information in there. It was so easy to do.
Be a mentor
The Career Launcher program needs seasoned reporters who have spent their careers in the freelance world to share that knowledge with those who are soon to take our profession into a strong future. As candidates complete modules, they will submit their transcripts to a pool of reviewers who, with the help of the master reviewer key, will review the transcripts with an eye toward critical errors. The Career Launcher program has used the NCRA standard guidelines as its model for transcript production, but students will use the formats, parentheticals, and layouts that they have learned all over the country and throughout the world. Reviewers will be evaluating these transcripts with the idea that, if it's not wrong, then it's right. The transcript may not look like the formatting used in Pennsylvania or Texas, but the focus for this program, among other things, will be on whether the objections are in colloquy and are all the parties on the appearance page.
The candidate will receive either a "pass" or a "pending" status from the reviewer. If the reviewer believes critical errors would need to be addressed before that transcript could go out the door to a client, then the reviewer will mentor the candidate on those items. The candidate will then correct those elements necessary to show mastery of the concepts and then will receive a "pass." Once a candidate completes all 10 modules, they will be able to call themselves Career Launcher Certified to prospective employers in the industry.
Not only can new professionals choose to complete the program on their own, but court reporting educators are augmenting their deposition procedures courses by incorporating Career Launcher into their curriculum. Court reporting agencies are already embracing the program with plans to implement this as their in-house training tool before sending new hires out on their first deposition.

We are so excited to see this program launching careers into the universe in the coming year. You do not want to miss your opportunity to be at Mission Control for the Career Launcher team webinar showcasing this new program. Watch for details about this webinar and information about registration coming soon!
Debbie Dibble, RDR, CRR, CRC, is a freelance court reporter and captioner based in Salt Lake City, Utah, as well as NCRA's President Elect. She can be reached at ddib06@gmail.com.