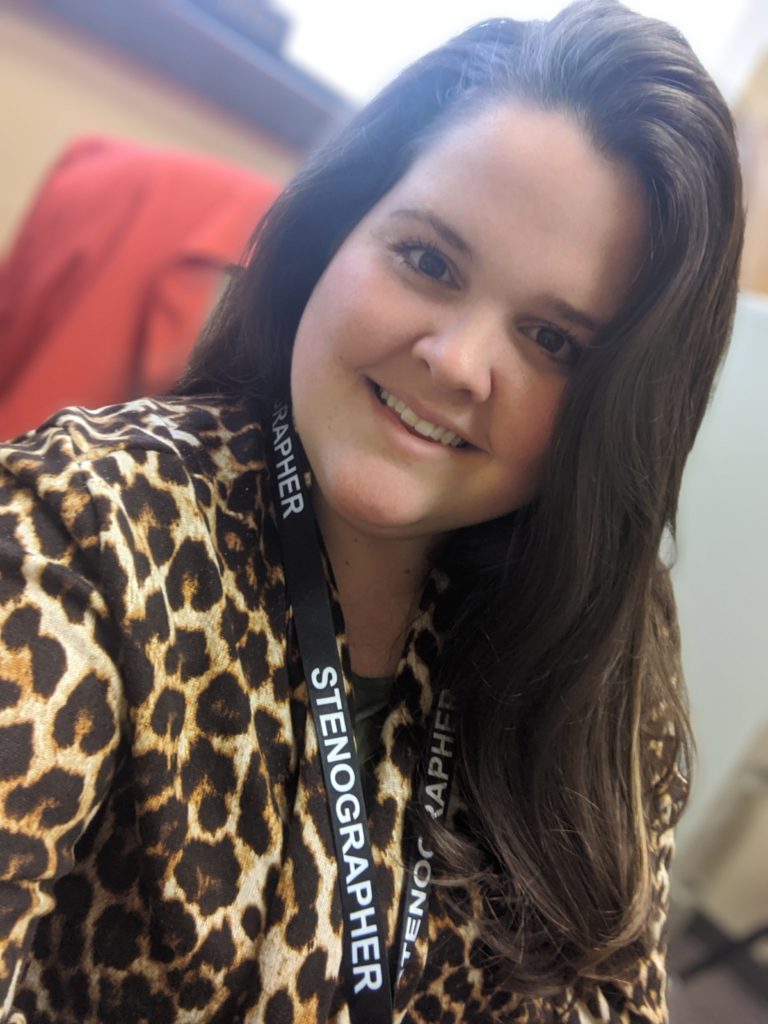 My name is Tatelyn Noda, RPR, and I am an official court reporter for the First Judicial Circuit of Alabama. I graduated from Prince Institute in Montgomery, Ala., in 2014 and worked briefly in Alabama as a freelance reporter before moving to Miami, Fla. I continued in freelance until I accepted an officialship in August of 2018.
JCR | How did you hear about court reporting and what made you choose that career path?
TN | My mom had a friend who freelanced, and she mentioned it to me in the seventh grade. At the start of my eighth-grade year, my parents and I toured Prince Institute. I fell in love with the profession. I immediately started college after finishing high school and never looked back. I could never sufficiently repay my mom for guiding me in the right direction and for always being by my side through college, freelancing, and official reporting.
JCR | What is your next career goal?
TN | I'm currently practicing daily for the RMR and CRR. After that, on to the RDR!
JCR | When you're not behind your steno machine, what do you do with your free time?
TN | My husband, Carlos, and I spend all of our free time with our boys: Harrison, Everett, and Walker. We enjoy traveling, visiting family, and renovating our historical home.
JCR | How has being involved with state or national associations benefitted you?
TN | Being involved with your state and national association is key to creating long-lasting friendships within our industry. Being involved has kept me up to date on topics and advances surrounding our profession and has even helped me implement new techniques in the way that I write.
JCR | Tell us about your favorite depo and/or location you've worked.
TN | My favorite job was a deposition of a very well-known restaurateur. I had absolutely no idea who the deponent was until I scoped the file. Looking back, he was so humble and just an overall nice person. I will never forget that deposition. My favorite location? The Florida Keys! I would never turn down an opportunity to write in paradise! I'd always make sure to stop by and pick up a key lime pie before heading back to Miami.
JCR | After freelancing for a couple of years, what was something you had to get used to when working in your role as an official?
TN | I had to get used to the criminal testimony and domestic matters. Before becoming an official, I only dealt with civil matters. Going from white-collar disagreements to crime scene photos took a little getting used to.
JCR | Who is your mentor, and how have they helped you along the way?
TN | Renda Cornick is my steno hero. She's a phenomenal writer, reporter, wife, mom, and friend. She never passes up an opportunity to cheer me on in my career and in my personal life. As a newer reporter, she has really been an inspiration to me.
Janet Russo has helped shape me into the reporter I am today. She took me under her wing and has taught me so much. She always made time for me when I had a question and would always look over any work I was unsure of. I am forever thankful — and grateful — for all of the time and knowledge she has shared with me.
Rhonda Hall-Breuwet, RDR, CRR, a freelancer in Lakeland, Fla., has always been there for me when it comes to all things reporting, especially Florida reporting and realtime. She really pushed me to get my certifications and has always helped me whenever needed. I dream of being on her realtime level. She is a phenomenal reporter!
JCR | Any advice for students?
TN | Strive for perfection, but please know that no one is perfect. Learn your software, retain a seasoned accountant, always be professional, and start testing for certifications as soon as possible. Be nice to everyone you meet and always wear a smile!