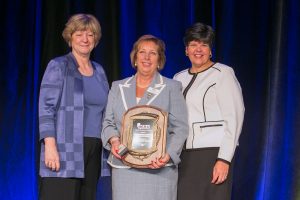 Past President Nancy Varallo, FAPR, RDR, CRR, from Worcester, Mass., was honored with NCRA's highest honor, the Distinguished Service Award (DSA), on Aug. 11 at the Premier Session held during the 2017 NCRA Convention & Expo in Las Vegas, Nev. The event runs through Aug. 13 at the Planet Hollywood Resort & Casino.
Varallo, the 56th recipient of the DSA, is owner of The Varallo Group in Worcester, Mass. She is a 30-year veteran of court reporting and a past president.
NCRA's DSA recognizes the distinguished work and service by an individual member for the benefit of the court reporting profession, including service to NCRA as a member, a committee member, a director, or an officer of the Association. Other displays of distinguished work include contributing to the JCR, or service at the state or local court reporters association or in the field of public relations or public affairs. Award winners are nominated by their peers and are recognized at the NCRA Convention & Expo.
Read all the news from the 2017 NCRA Convention & Expo.